Maple Pecan Milk
---
November 20, 2017
This maple pecan milk is so incredible. It is super creamy with a delicious holiday flavor to serve for Thanksgiving or Christmas.
MAPLE PECAN MILK

This MAPLE PECAN MILK is such a delicious drink to put on the holiday brunch table. Add chocolate or cinnamon for a flavor variations. GET THE FULL PRINTED RECIPE:https://www.theblendergirl.com/recipe/maple-pecan-milk/

Posted by The Blendaholic on Wednesday, November 14, 2018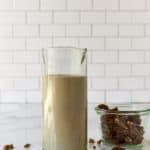 Maple Pecan Milk
This maple pecan milk is rich, creamy and delicious, and is a fantastic dairy-free, vegan, and paleo-friendly holiday drink for Thanksgiving or Christmas.

Instructions
Throw the water and the pecans into your KitchenAid® Pro Line® Series blender, and blast on high for 60 seconds until the nuts are completely pulverized.

Strain the mixture, using a nut milk bag, wash the blender container, and then pour the strained milk into the container.

Add the maple syrup, vanilla, salt, (and cacao and cinnamon, if adding), and blast on high for about 10 seconds until combined. Tweak maple syrup, cacao, and cinnamon to taste.

The milk will keep in the fridge for about 4 days.