Thanksgiving is in three days, and we are planning our holiday menu. Scott and I are spending Thanksgiving in NYC with our dear friends Kat and Wayne. We are all attending the famous Candle 79 vegan thanksgiving feast, and we are so excited!
So, here is my last Thanksgiving recipe for this year, and I wanted to celebrate Way Better tortilla chips today. These non-gmo tortilla chips are the healthiest ones I've seen. They're made from sprouted ingredients, and are gluten-free, kosher, and free of additives and preservatives.
I love enjoying these chips with homemade dips and spreads, or using them as a crumble topping for mac n cheeze or vegetable bakes, or to add crunch to salads. I also use these chips in holiday stuffings.
A mixture of cauliflower rice, nuts, and the Way Better Sprouted Blue Corn Chips adds crazy-amazing crunch to this sage stuffing. Just be sure to to grind your herbs and steep them in the vegetable broth for the most even flavor. I find the maple syrup balances out the flavors. But, if you're avoiding sweeteners, leave it out.
Happy Thanksgiving to you and your family. I hope your week is filled with love, laughter, gratitude, peace, and lots of delicious food.
Disclosure: I am a brand ambassador for Way Better Snacks. But, my opinons are my own.
THE BEST VEGAN MAC AND CHEESE

This is THE BEST VEGAN MAC AND CHEESE. This is rich and cheesy, you'd never know it was dairy-free. I love adding mushrooms and herbs for full flavor. But, you could leave it plain for kids. GET THE FULL PRINTED RECIPE:https://www.theblendergirl.com/recipe/the-best-vegan-mac-and-cheese/

Posted by The Blendaholic on Thursday, August 30, 2018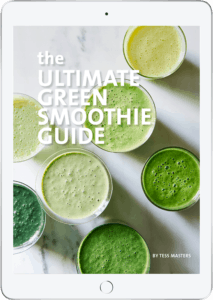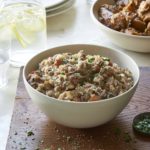 Cauliflower Sage Vegan Gluten Free Stuffing
This allergy-friendly stuffing is incredible in the cooler weather, for the holidays and is so easy to make.
Total Time
1
hour
10
minutes
Ingredients
1

large head

cauliflower,

cut into florets

1

(5.5oz) pack

Way Better Blue Tortilla Chips

1 1/2 

teaspoons 

dried sage

1

teaspoon 

dried rosemary

1

teaspoon 

dried thyme

1/2

teaspoon 

dried marjoram

4

cups 

vegetable broth

1/4

cup 

extra-virgin olive oil

2

cups 

diced red onion 

2

tablespoons

minced garlic

(6 cloves)

1

tablespoon 

Celtic sea salt,

plus more to taste

2

cups

diced celery 

2

cups

diced carrot 

1/2

teaspoon

freshly ground black pepper,

plus more to taste

1/3

cup 

pure maple syrup

2

teaspoons 

apple cider vinegar

4

cups

roughly chopped raw almonds

1

cup

finely chopped flat-leaf parsley
Instructions
Throw the cauliflower florets into your food processor, and pulse until the consistency of rice. Set aside.

Throw the tortilla chips into the food processor, and pulse until roughly chopped. 

Grind the sage, rosemary, thyme, and marjoram in a spice grinder or coffee grinder, and steep in the vegetable broth.

In a large saucepan over medium-high heat, sauté the olive oil, onions, and garlic with 1/4 teaspoon of the salt for about 5 minutes until soft and translucent. Add in the celery and carrots, and sauté for 5 minutes until softening. 

Stir in the cauliflower, corn chips, vegetable broth/herb mixture, 2 teaspoons of salt, and the 1/2 teaspoon of pepper, increase the heat to high, and bring the mixture to a boil. Reduce the heat to medium, and simmer, stirring periodically for about 30 minutes until the liquid has reduced and the mixture has the consistency of cooked oatmeal. 

Remove from the heat, and stir in the maple syrup, apple cider vinegar, almonds, parsley, and remaining 3/4 teaspoon of the salt until well combined. 

Season with salt and pepper to taste, and serve family style.