This vanilla cashew cream is divine. This cashew cream is raw, vegan, gluten-free, dairy-free, and paleo-friendly.
I am a devout cream dreamer. But, when I discovered my intolerance to dairy and became a vegan, I thought I'd be left longing for the rest of my life. Enter the buttery cashew, and problem solved.
In the plant-based world, the cashew is our cow, and she yields rich milk and cream. This basic vanilla cashew cream is super easy, and is a fantastic staple to serve with desserts or use as a base for puddings, cakes, and other sweet treats.  Soak your cashews for the smoothest texture and to make the cream more digestible, and then slather it on everything in sight.
Try it in these berry breakfast parfaits. Oh my…
THE BLENDAHOLIC SHOW TRAILER

THE BLENDAHOLIC SHOW TRAILER: Hi, my name is Tess and I'm a Blendaholic. Every Monday I share super easy recipes you can make in your blender! I'm blending up smoothies, cocktails, soups, appetizers, snacks, main meals, and desserts. There isn't anything I won't try in a blender, and all of the recipes are mind-blowingly delicious. So, dust off your blender, and tune in to The Blendaholic every Monday at 7AM PST to find your perfect blend. Find more easy healthy recipes at The Blender Girlhttps://www.theblendergirl.com/

Posted by The Blendaholic on Monday, January 22, 2018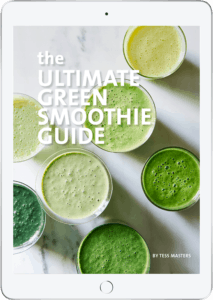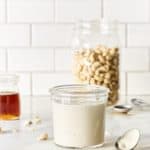 Vanilla Cashew Cream
This raw vegan vanilla cashew cream is creamy, delicious, and is awesome served with dairy-free desserts.
Ingredients
1

cup

raw unsalted cashews,

soaked and drained

1/2

cup (120ml)

filtered water,

plus more to taste

2

tablespoons

pure maple syrup,

plus more to taste

1 

teaspoon

natural vanilla extract,

plus more to taste

Pinch

of Celtic sea salt
Instructions
Drain the cashews, and discard the soaking water.

Pour the fresh 1/2 cup filtered water into the blender, and add the soaked cashews with the maple syrup, vanilla, and salt. Blast on high for 30 to 60 seconds, until smooth and creamy. Tweak water, sweetener, and vanilla to taste. 

Transfer to a sealed container in the fridge, and chill for a few hours to thicken. 

The cream will keep in the fridge for about 5 days.