Vanilla Cashew Cream
---
October 9, 2009
This vanilla cashew cream is really easy to make and is super rich and creamy. Use with desserts, baked goods, or in parfaits.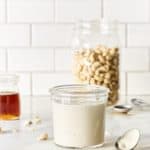 Vanilla Cashew Cream
This raw vegan vanilla cashew cream is creamy, delicious, and is awesome served with dairy-free desserts.
Instructions
If you are not using a high-speed blender, quick-soak your cashews by placing them in a small bowl, and covering them with boiling hot water. Allow to sit for 10 minutes, then drain, and discard the soaking liquid. (This will give you the smoothest texture.)

Throw the drained cashews into your blender with the maple syrup, vanilla, and salt. Blast on high for 30 to 60 seconds, until smooth and creamy. Tweak water and sweetener, to taste. You should have about 1 1/4 cups of cream.

Transfer the mixture to a sealed container, and chill in the fridge for a few hours to thicken. It will keep in the fridge for about 5 days.
Recipe Notes
Yield: Makes about 1 1/4 cups.
Serving: 1 serving = 2 tablespoons.
Other Dairy-Free Cream Recipes