Vegan Chicken Noodle Soup
---
November 30, 2017
This vegan chicken noodle soup tastes like it has chicken broth in it. The Massel chicken-flavored vegan broth is mind-blowing. Don't miss this one. It's incredible.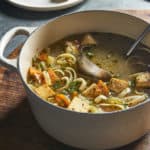 Vegan Chicken Noodle Soup
This vegan chicken noodle soup really tastes like it contains real chicken broth, but it's vegetarian and gluten-free. The secret? Massel vegan broth.

Instructions
Wrap the tofu in paper towel, and pat dry until all of the excess moisture has been removed. Wrap in a dry piece of paper towel, and allow to sit.

In a saucepan, cook the pasta according to the manufacturer's instructions. Drain, and set aside.

Unwrap the tofu, and cut the block into equal 1-inch cubes.

In a bowl, combine 2 tablespoons of the olive oil with 1 1/2 tablespoons of the

chicken-flavored powder

, garlic powder, and onion powder, and stir until well combined. Toss the tofu cubes in the oil mixture until evenly coated.

In a large skillet over medium heat, sauté the tofu cubes for about 10 minutes until lightly browned, turning when needed.

In a large stockpot over medium heat, warm the remaining 2 tablespoons olive oil, and sauté the onions, garlic, thyme, celery, and carrots for about 5 minutes, until the onions are soft and translucent, and the celery and carrots are softened, but not browned.

Pour in the broth and the remaining 1/2 tablespoon of the

seasoning powder

, and bring to a boil. Reduce the heat to medium, and simmer for about 5 minutes, until the carrot is just tender. Stir in the lemon juice, tamari, and parsley, add the cooked noodles and tofu, and season with pepper to taste.

Serve topped with a sprinkle of additional chopped parsley.