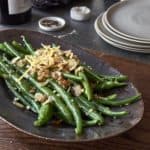 Lemon Garlic Green Beans with Almonds
This dish is one of my favorite side dishes to make because it's ridiculously easy, yet the flavors are unbelievable.
Ingredients
3

quarts/liters

vegetable broth 

(or filtered water)

30

oz (850g)

green beans,

ends cut off

3

tablespoons (45ml)

extra-virgin olive oil

1/4

cup (48g)

finely chopped fresh garlic

1

cup (90g)

sliced raw almonds

3

tablespoons (45ml)

fresh lemon juice

1/2 

teaspoon (2g)

finely grated lemon zest

1

teaspoon (6g)

Celtic sea salt,

plus more to taste

1

teaspoon (4g)

lemon zest strips
Instructions
In a large saucepan, bring the vegetable broth or filtered water to a boil, and then blanch the green beans for 2 to 3 minutes until just al dente. Drain, and set aside. 

Return the saucepan to the stovetop, and over medium heat, warm the olive oil, and sauté the garlic for about 2 minutes until just starting to brown. Add the sliced almonds, and sauté for 30 to 60 seconds until just warmed. Stir in the lemon juice and finely grated lemon zest.

Transfer the drained beans to the saucepan, and stir until well combined. Add salt to taste. 

Lay the beans in a gratin dish and serve topped with the lemon zest strips.