Creamy Vegan Mashed Potatoes
---
November 3, 2017
These vegan mashed potatoes with rosemary are crazy amazing. They're super creamy from the cashews and broth, and are awesome on the Thanksgiving or Christmas table, or for any day of the year!
These vegan mashed potatoes with rosemary are so creamy you'd never know they were dairy-free. Serve with vegetables and stuffing for an epic thanksgiving!
As we head into the holiday season I had to share these creamy rosemary mashed potatoes. I absolutely love mashed potatoes. If there was an hour left on earth, I would eat a vat of them! Is there anything better than mashed potatoes on the holiday table?
Scott's mum makes incredible mashed potatoes every Thanksgiving and Christmas, and every year the entire family demands that she make a double, triple, or quadruple batch so there are plenty of leftovers the next day! Sandra uses lots of heavy cream and butter in her recipe. So, I set out to create a dairy-free version that replicated the decadent flavor and texture of her original recipe.
I've tried a lot of ideas over the years to make epic vegan mashed potatoes. I love my olive oil mashed potatoes. But, for a super rich creamy consistency, I turn to a mixture of Massel broth, cashews, onions, garlic, and herbs. I find that commercial milks aren't creamy enough, and make the potatoes too sweet.
Those of you who make my recipes a lot know that I always use Massel broth in all of my recipes. Why? Because it's the best commercial broth on the planet. I've been using this broth for over 30 years, and I've never found any other product that has the incredible flavor of this product. It adds a touch of magic to anything you add it to.
For those of you in the U.S who haven't heard of the Massel broth, use the store locator to find out where you can get the product in your local area. Or, order it from amazon. Aussies, you know the drill.
I also often sauté onions and garlic to add an extra dimension of flavor to sauces and dips, and this trick works wonders with these potatoes. Yum. Yum. Yum.
I always add some kind of fresh herbs to my potatoes. With the olive oil mashed potatoes I used chives and parsley. So, I used rosemary in this recipe. Fresh thyme is really delicious as well. Either way, these potatoes rock.
*I'm an ambassador for Massel, but my opinions are my own.
VEGAN ROSEMARY MASHED POTATOES

These VEGAN ROSEMARY MASHED POTATOES are really easy and are really rich and creamy. You'd never know they were dairy-free! GET THE FULL PRINTED RECIPE:https://www.theblendergirl.com/recipe/creamy-vegan-mashed-potatoes/

Posted by The Blendaholic on Friday, October 19, 2018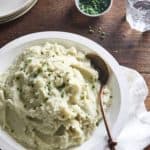 Creamy Vegan Mashed Potatoes
These vegan mashed potatoes with rosemary are so creamy you'd never know they were dairy-free. Serve with vegetables and stuffing for an epic thanksgiving!

Instructions
Place the chopped potatoes in a large saucepan, cover with water, and bring to a boil. Reduce the heat to medium-high, and simmer for 8 to 10 minutes until tender. Drain well.

In a skillet over medium heat, warm the grape seed oil, and sauté the garlic and onion with a pinch of the salt for 5 to 10 minutes until soft and translucent and just starting to brown. Allow the mixture to cool for 5 minutes.

Pour the broth, cashews, rosemary, remaining salt, and pepper into your blender, add the cooked onion and garlic mixture, and blast on high for 30 to 60 seconds, until smooth and creamy.

Transfer the drained potatoes into the bowl of your stand mixer, and begin whipping with the paddle attachment. Gradually pour in the blended mixture, and process for 10 to 20 seconds until the potatoes are light and fluffy. (You could also mash the potatoes by hand with a potato masher or ricer.)

Season to taste, and serve.