Creamy Vegan Mashed Potatoes
---
November 3, 2017
These vegan mashed potatoes with rosemary are crazy amazing. They're super creamy from the cashews and broth, and are awesome on the Thanksgiving or Christmas table, or for any day of the year!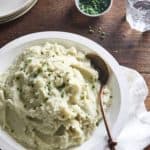 Creamy Vegan Mashed Potatoes
These vegan mashed potatoes with rosemary are so creamy you'd never know they were dairy-free. Serve with vegetables and stuffing for an epic thanksgiving!

Instructions
Place the chopped potatoes in a large saucepan, cover with water, and bring to a boil. Reduce the heat to medium-high, and simmer for 8 to 10 minutes until tender. Drain well.

In a skillet over medium heat, warm the grape seed oil, and sauté the garlic and onion with a pinch of the salt for 5 to 10 minutes until soft and translucent and just starting to brown. Allow the mixture to cool for 5 minutes.

Pour the broth, cashews, rosemary, remaining salt, and pepper into your blender, add the cooked onion and garlic mixture, and blast on high for 30 to 60 seconds, until smooth and creamy.

Transfer the drained potatoes into the bowl of your stand mixer, and begin whipping with the paddle attachment. Gradually pour in the blended mixture, and process for 10 to 20 seconds until the potatoes are light and fluffy. (You could also mash the potatoes by hand with a potato masher or ricer.)

Season to taste, and serve.