Mind-Blowing Cauliflower Soup
from The Blender Girl cookbook
---
November 17, 2009
This creamy cauliflower soup is really quick and easy and is absolutely incredible. Even cauliflower haters love this soup!
Creamy Cauliflower Soup
This creamy cauliflower soup is so rich and creamy you'd never know it was dairy-free (vegan & paleo friendly). It's healthy, can be thrown together in less than 30 minutes, and is a show stopper!
This cream of cauliflower soup is my most requested recipe. I've been making this soup for over 20 years, and it never gets old. For a simple, impressive, and downright delicious soup, you just can't go past this creamy cauliflower blend. Since The Blender Girl cookbook was released, I receive over 500 emails a week from people who are addicted to it, and now make it every single week.
This vegan cauliflower soup even gets raves from cauli-phobes. I never tell people what's in it, cause it's so much fun listening to all of the guesses – potato? parsnip? Would you believe this soup contains just a handful of ingredients. You won't believe something so simple can taste so sublime.
The secret to this cream of cauliflower soup is the alchemy that's created between the cauliflower and nuts. This soup has a rich creaminess that'll make you weak at the knees. I use raw cashews, macadamias, blanched raw almonds, coconut milk, or cook 1 cup of cauliflower to cream most of my soups. (If you're following the Body Ecology Diet use raw blanched almonds, as they're alkaline forming.)
For the best results with all blenders, cook the soup, turn the heat off the stove, then throw the nuts into the pot to allow the hot liquid to soften them for 10 minutes. Then, blast (in batches) in your blender on the highest speed for about 60 seconds, or until the nuts are completely pulverized. Then, return the pureed soup to the stove to warm slightly, before serving. Many of my friends describe this soup as, "liquid air."
This sensational cauliflower soup stands alone as a fantastic family dinner topped with a scoop of cooked quinoa, millet, or brown rice, or with a piece of crusty bread. For those of you going grain-free or paleo, cooked cauliflower rice makes this soup a meal.
Do not miss making this creamy cauliflower soup. It's not to be missed.
Get 100 Delicious Healthy Recipes
My Top 100 Healthy Recipes are in The Blender Girl cookbook.
Please let me know what you think of this recipe in the comments!

Your feedback is really important to me, and it helps me decide which recipes to post next for you.
CREAMY CAULIFLOWER SOUP

MIND-BLOWING CREAMY CAULIFLOWER SOUP with 6 Ingredients In 30 Minutes! This is my most requested recipe. People freak out about how good this recipe is...even people who hate cauliflower. It tastes like potato! GET THE FULL PRINTED RECIPE: https://www.theblendergirl.com/recipe/creamy-vegan-cauliflower-soup/

Posted by The Blendaholic on Sunday, April 22, 2018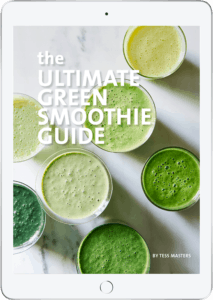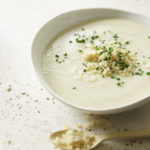 Mind-blowing Cauliflower Soup
This creamy cauliflower soup is really quick and easy and is absolutely incredible. Even cauliflower haters love this soup!

Ingredients
2

tablespoons

grape seed oil

(or olive oil)

2

teaspoons

minced garlic

(2 cloves)

2

cups (200g)

sliced leeks (white parts only)

(or diced yellow onion)

1

teaspoon 

Celtic sea salt,

plus more to taste

1

large head

cauliflower,

roughly chopped

7

cups (1.65l)

vegetable broth

1/4

cup (35g)

blanched slivered almonds

(or raw unsalted cashews)

3

tablespoons

chopped chives,

to serve
Instructions
In a large saucepan, heat the oil over medium heat and sauté the garlic, leeks, and 1/4 teaspoon of salt for about 3 minutes, until the vegetables are soft. Add the cauliflower and sauté for another minute.

Add the vegetable broth, increase the heat to high, and bring just to a boil. Reduce the heat to medium and simmer for 20 to 30 minutes, until the cauliflower is completely tender. 

Remove the saucepan from the heat and allow the soup to cool slightly; stir in the nuts.

Pour the soup into your blender in batches and blast on high for about 1 minute, until smooth and creamy.

Return the soup to the saucepan and warm it over low heat. Stir in salt to taste.

To serve, ladle the soup into bowls and garnish with either chopped chives or grated nutmeg.