Indian Chickpea Crepes
---
November 17, 2017
This chickpea crepes are gluten-free and vegan, and have an incredible savory Indian flavor. Serve these with a chutney and curry for an incredible dinner.
Indian Chickpea Crepes
This savory Indian chickpea crepes are gluten-free and vegan, and have an incredible flavor. Serve these with curry and chutney for an incredible dinner.
I'm hosting a Bollywood banquet tomorrow night, and I'm serving these chickpea crepes with a mint cilantro chutney and vegetable curry. I am so excited. It's going to be delicious!
With sweet crepes, I use a mixture of protein and starchy flours or a commercial gluten-free flour mix. Using chickpea flour or even a garbanzo-fava flour blend makes the batter taste too "beany" for dessert-style crepes. However, with savory crepes, besan flour or chickpea flour works a treat, and makes them so much easier to make. In fact, the beany flavor works really well.
With this chickpea crepe batter, I've added garlic, onion, and curry powders with cayenne to the batter. You can omit the kala namak if you can't find it. But, I encourage you to make a trip to the Indian grocer or order it online because it does add a touch of magic to the batter. Kala namak is often used in vegan omelet recipes to make the blend taste like egg. It's a great trick ingredient to have on hand in the pantry if you're going to make a lot of Indian dishes.
While you're at the Indian grocer, pick up the besan flour. I also prefer that to chickpea flour. It's finer. However, they are very similar and both derived from chickpeas. If you do use chickpea (garbanzo) flour in place of besan (gram) flour, use 1 1/3 cups water in the batter. See the note in the recipe.
Crepes can be a bit of a pain to cook, and you do need patience. I use a crepe pan to make these. But, you can use a small shallow fry pan if that's what you have. Keep the heat on medium-low and grease the pan between each crepe for the best results.
I've created a lot of recipes for the Kitchenthusiast® recipe blog to celebrate the KitchenAid® Pro Line® Series blender. But, the Indian recipes I shared this week are some of my favorites.
Here's my Indian Buffet menu:
potato, cauliflower & green bean curry
garlic green beans
curried sweet potatoes
spicy cashew dip
green pea and almond dip
mango cardamom lassis
banana lassis
mint cilantro chutney
My blender is getting a workout today! But, she's up for it.
Check out the KitchenAid® Pro Line® Series blender. She's now the most powerful impressive goddess on the market. I am in love.
*I am the ambassador for KitchenAid® blenders. But, my opinions are my own.
SAVORY CHICKPEA CREPES

These SAVORY CHICKPEA CREPES are so easy to make and are absolutely delicious served with chutney or other dips and curries. These crepes are gluten-free, vegan, and allergy-free. GET THE FULL PRINTED RECIPE:https://www.theblendergirl.com/recipe/indian-chickpea-crepes/

Posted by The Blendaholic on Monday, August 20, 2018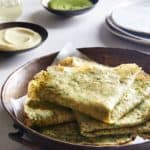 Indian Chickpea Crepes
These gluten-free, vegan savory Indian crepes are super easy. They're fantastic served with curries and chutneys.
Instructions
Pour the water and oil into your

KitchenAid® Pro Line® Blender

, and then add the flour and the dry ingredients, except the cilantro. Process on variable speed 3 for about 5 seconds just until the mixture is combined with no lumps. (You don't want to over process.) Add the cilantro leaves, and process on variable speed 3 for about 3 seconds just until the cilantro leaves are roughly chopped, but not fully blended.

Transfer the batter to a jug, and let the batter sit for 10 to 15 minutes to thicken slightly.

Using a paper towel, very lightly coat an 8-inch (20cm) nonstick crepe pan or frying pan with about 1/2 teaspoon of oil. Heat the pan over low to medium-low heat, depending on your stove. Lift the pan off the heat and pour in a scant 1⁄3 cup (75ml) of the batter, quickly swirling the pan to allow the mixture to evenly coat the bottom of the pan. (I swirl the batter twice over the edges so that they don't get too thin and crispy.) Return the pan to the heat and cook the crepe for about 2 minutes, until bubbles form on the top and the sides lift easily from the pan. Gently flip the crepe with a spatula and cook for about 1 minute more, until lightly browned. Transfer the crepe to a plate. Repeat this process with the remaining batter, lightly greasing the pan with paper towel between each crepe. Stack the finished crepes on top of each other so that they soften and remain pliable.

Serve with chutneys, dips, or stuffed with vegetables. 
Recipe Notes
*If using chickpea (garbanzo) flour in place of besan (gram) flour, use 1 1/3 cups water. 
Photo by Trent Lanz; styling by Alicia Buszczak