Chocolate Espresso Cake
---
December 21, 2016
This chocolate espresso cake is super easy and is always a show-stopper. This chocolate coffee cake is gluten-free and vegan.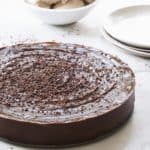 Chocolate Espresso Cake
This vegan chocolate espresso cake is super easy to make and is always a hit. And, you don't need to bake it. Just blend and chill. Too easy. 
Instructions
To make the crust, grease a 9 inch (23cm) springform pan. Then, add the crust ingredients into a food processor fitted with the S blade, and process until the mixture is well combined and begins to clumps together. Form the mixture into a ball; if it doesn't hold together, you may need to add more a bit more dates and process again. Press the mixture into the bottom of the prepared pan and set aside.

To make the filling, throw all of the ingredients into your high-speed blender in the order listed, and blend on high for about 1 minute using the tamper to guide the ingredients through the blades, until rich and creamy.

Pour the filling into the crust. Jiggle the pan lightly to get the mixture to settle evenly in the pan. Cover the pan with aluminium foil and freeze the torte for 6 to 8 hours until solidified.

To serve, transfer the pan from the freezer to the fridge to defrost for about half an hour. Gently release the sides of the springform pan and then cut the torte into slices with a very sharp knife. Keeping the slices together, return the torte to the fridge to continue defrosting for another half an hour before serving. Serve with ice cream or cashew cream.