Mushroom Stroganoff
---
June 15, 2017
This mushroom stroganoff is incredible, and will satisfy the hungriest omnivore. This vegan gluten-free dish is a vegetarian dinner that is always a hit.
The Best Mushroom Stroganoff
This mushroom stroganoff will blow your mind! Yep, it's a big statement, but I stand by it. This recipe is a staple in our house anytime I have a skeptical omnivore staying who is a self-professed veggie-phobe! It always wins them over. This recipe is vegan and gluten-free, any nobody even notices because they're devouring it so quickly.
The mushroom stroganoff I created for my first book, The Blender Girl was epic, and I have received thousands of emails from many of you raving about it. But, this incantation may be better….
Use beef-flavored vegan broth for added umami flavor
You can use any vegetable broth in this recipe. But, for an added touch of magic, try using the Massel beef-flavored vegan broth.
Aussie vegetarians are well acquainted with this amazing broth. Massel is a household name in Australia. Everybody I know uses it, and I haven't found a commercial broth anywhere in the world that comes close to it. I
You can get the beef-flavored broth in concentrated liquid stock, bouillon cubes, 7 cubes, and the bouillon powder and seasoning. In the US you can order it from amazon.
I use the vegetable and chicken-flavored broth to add flavor to soups, stews, sauces, salad dressings, stir-fries, grains, legumes, and smoothies. But, when I want to add a "meaty" flavor to vegetarian dishes I always grab for the beef-flavored broth. I used it in the French onion soup I posted last year, and it is just as amazing boosting the natural flavor of the mushrooms in this stroganoff.
When you use combine vegetable broth, mushrooms, tamari, balsamic vinegar, and mustard you get an incredible "meaty" flavor. I blended some of the broth with raw cashews to add a rich creaminess.
The results are spectacular. Don't miss making this mushroom stroganoff. It is epic.
*I'm an ambassador for Massel, but my opinions are my own.
CREAMY MUSHROOM STROGANOFF

This MUSHROOM STROGANOFF is INCREDIBLE. If you've got a guy who doesn't think he can eat vegetarian food, this will change his mind. I get hundreds of emails a month from people about this recipe. If you don't have the vegan beef-flavored broth, use veggie broth. It tastes the same. GET THE FULL PRINTED RECIPE: https://www.theblendergirl.com/recipe/mushroom-stroganoff/

Posted by The Blendaholic on Sunday, June 3, 2018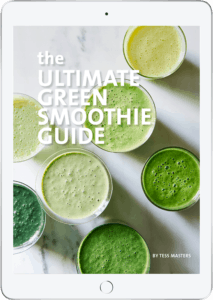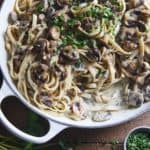 Mushroom Stroganoff
This mushroom stroganoff is incredible, and will satisfy the hungriest omnivore. This vegan gluten-free dish is a vegetarian dinner that is always a hit.

Instructions
Cook the pasta according to the package instructions. Drain the pasta, and set aside.

In a large skillet over medium-high heat, warm 1 tablespoon of the oil, and sauté the onion and garlic for about 5 minutes, until soft and translucent. Add the mushrooms and the remaining oil, and sauté for 5 to 10 minutes, until the mushrooms are just softened. Remove from the heat and set aside.

Pour the broth, cashews, tamari, thyme, seasoning powder, mustard, balsamic vinegar, lemon juice, and pepper into your blender, and blast on high for 30 to 60 seconds, until smooth and creamy. Add about 1 cup (180g) of the cooked mushroom mixture, and pulse a few times on a very low speed just to break up the mushrooms slightly. (You want a speckled, grainy consistency, not a puree.)

In a large saucepan over medium-low heat, pour in the blended cashew-broth-mushroom mixture and the textured cooked mushroom-and-onion mixture, and stir for a few minutes until heated through.  Add the cooked pasta, parsley, and chives, and stir together until well combined.

Season to taste, and serve family-style in a big bowl garnished with additional parsley and chives, or portion into individual bowls, and garnish with the herbs.