Mind-Blowing Thai Pumpkin Soup
---
November 13, 2017
This Thai pumpkin soup is absolutely incredible, and it is so easy to throw together for show-stopper vegan dish for Thanksgiving or any day of the year!
This Thai pumpkin soup is mind-blowing. This super easy recipe is vegan and gluten-free and is a show-stopper dish for Thanksgiving or any day of the year!
If you only make one recipe on this site, let it be this Thai pumpkin soup. It is soup-perb. I reckon it's one of the top five most amazing recipes I've ever created in my career as a recipe developer. Seriously…it is that amazing. At the risk of seeming totally arrogant by tooting my own happy horn, I nailed this recipe the first time I tried it, and haven't changed a thing since.
With a mind-blowing dimensional flavor that is perfectly balanced, this Thai pumpkin soup is a sensorial symphony with all of the elements singing in perfect harmony. I served this soup at a dinner party a few months ago, and my guests said it was the best soup they had ever eaten. Quite a compliment…but this soup is incredible.
Because this site has such a global audience and I want your soup to taste with close approximation to mine in order to give you the "full" euphoric experience, I decided not to use a commercial red curry paste that might only be available in my country, and instead create my own spicy tomato base with tomato paste, ginger, and red pepper flakes. To that, I added lemongrass, kaffir lime leaves, and cilantro root. I added some tamari and lime juice to up the umami explosion, and coconut milk to make this soup song a cream dream.
Do not skip the trip to the health food store or Asian grocer to get your lime leaves and lemongrass (although for those of you in the UK I found both of these ingredients at Marks & Spencer on my recent trip to London, where I literally bumped into Michael Caine the aisle)! True Story.
But, I digress.
As with all of my soups, I always use Massel broth. I've used both the chicken and vegetable flavor, and this soup is fabulous with either variety. Massel is the best commercial broth I've ever tried, and I've been using for over 30 years.
For those of you in the U.S, use the store locator to find out where you can get the product in your local area. Or, order it from amazon. Aussies, it's in every store in the country. For those of you in Europe, I'm fairly certain you can also purchase it online.
You can, of course, make this soup with any broth you have.
Likewise, you can use butternut squash, Japanese pumpkin, or orange-flesh sweet potato.
Just do not miss making this soup. It is just incredible.
*I'm an ambassador for Massel, but my opinions are my own. 
THE BLENDAHOLIC SHOW TRAILER

THE BLENDAHOLIC SHOW TRAILER: Hi, my name is Tess and I'm a Blendaholic. Every Monday I share super easy recipes you can make in your blender! I'm blending up smoothies, cocktails, soups, appetizers, snacks, main meals, and desserts. There isn't anything I won't try in a blender, and all of the recipes are mind-blowingly delicious. So, dust off your blender, and tune in to The Blendaholic every Monday at 7AM PST to find your perfect blend. Find more easy healthy recipes at The Blender Girlhttps://www.theblendergirl.com/

Posted by The Blendaholic on Monday, January 22, 2018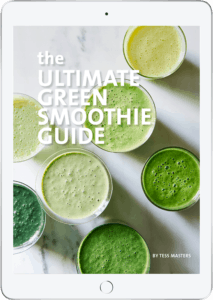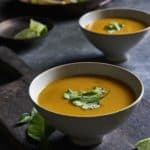 Mind-Blowing Thai Pumpkin Soup
This Thai pumpkin soup is mind-blowing. This super easy recipe is vegan and gluten-free and is a show-stopper dish for Thanksgiving or any day of the year!

Ingredients
2

tablespoons

virgin coconut oil

2

cups (300g)

diced yellow onion

(1 medium)

1

tablespoon

minced garlic

(3 cloves)

1

teaspoon 

Celtic sea salt,

plus more to taste

3

tablespoons

tomato paste

2

tablespoons

thinly sliced fresh lemongrass stems

2

tablespoons

minced ginger

1

teaspoon

finely chopped fresh kaffir lime leaves

1/4

teaspoon

red pepper flakes

6

cups (1.4l)

Massel vegetable broth

7

cups

peeled and cubed butternut squash or Japanese pumpkin

(2 lb/910g)

1/2

cup (42g)

firmly packed cilantro roots or stems

(1 bunch)

2

tablespoons

wheat-free tamari

1

(13.5oz/400ml) can

full-fat coconut milk

(shake, then pour) 

1

teaspoon

fresh lime juice,

plus more to serve

Fresh cilantro leaves

to serve
Instructions
In a large saucepan over medium heat, warm the coconut oil, and sauté the onion and garlic with a pinch of the salt for about 5 minutes, until the onions are soft and translucent. Bring the heat down to low, and add the tomato paste, lemongrass, ginger, kaffir lime leaves, and red pepper flakes, and sauté for another minute until well combined and fragrant.

Add the broth, squash, cilantro roots, tamari, and remaining salt, increase the heat to high, and bring just to a boil. Reduce the heat to medium, and simmer for about 30 minutes, until the squash is fork tender.

Remove the saucepan from the heat, and allow the soup to cool slightly; stir in the coconut milk and lime juice.

Pour the soup into your blender in batches, and blast on high for 30 to 60 seconds, until smooth and creamy.

Return the soup to the saucepan, and warm it over low heat. Season to taste.

To serve, ladle the soup into bowls and garnish with cilantro leaves, and pass lime juice at the table.