These maple candied pecans are so easy and are absolutely incredible. I have just made ten batches of them to give as holiday gifts with my dear friend Stacey.
I hosted a holiday party last week where we served:
Stacey brought her Maple Candied Pecans and we served them with nibbles with eggnog. They were a huge hit.
Stacey and I had a hilarious "Coat and Roast" or "Roast and Coat" discussion. Stacey roasts and then coats to get a fabulous uniform crunchy robust texture. I've always been a fan of the coat-and-then-roast technique. But, after making these with her, I may be a convert. There is a gorgeous smokiness you can't beat.
These candied pecans would also make a fabulous topping for pumpkin, sweet potato, or pecan pie; a sensational addition to ice cream or parfaits; and amazing holiday gifts in decorative jars.
Stacey, thanks for sharing these amazing maple candied pecans.
Happy Holidays.
Check out Stacey J Aswad and VO Buzz Weekly.
THE BLENDAHOLIC SHOW TRAILER

THE BLENDAHOLIC SHOW TRAILER: Hi, my name is Tess and I'm a Blendaholic. Every Monday I share super easy recipes you can make in your blender! I'm blending up smoothies, cocktails, soups, appetizers, snacks, main meals, and desserts. There isn't anything I won't try in a blender, and all of the recipes are mind-blowingly delicious. So, dust off your blender, and tune in to The Blendaholic every Monday at 7AM PST to find your perfect blend. Find more easy healthy recipes at The Blender Girlhttps://www.theblendergirl.com/

Posted by The Blendaholic on Monday, January 22, 2018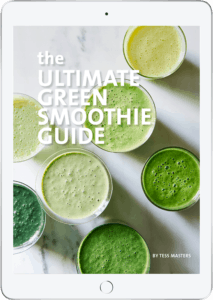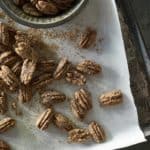 Maple Candied Pecans
These maple candied pecans are vegan are super easy, and absolutely incredible.
Ingredients
4

cups 

raw pecans

2/3

cup 

pure maple syrup

1

tablespoon

filtered water

1 

teaspoon 

ground cinnamon

1/2 

teaspoon 

ground nutmeg

1/8

teaspoon 

ground ginger

1/8

teaspoon 

cayenne pepper

Pinch

of Celtic sea salt 
Instructions
Preheat the oven to 350°F (180°C).

Line a baking sheet with parchment paper or a silicone liner, and roast the pecans for 8 to 10 minutes, until slightly crispy and fragrant.

In a medium saucepan over medium heat, warm the maple syrup and spices for about 5 minutes, until warm and slightly bubbling.

Stir in the warm roasted pecans and filtered water. Fold through for 3 to 4 minutes stirring constantly until the nuts caramelize, and the liquid reduces, is completely absorbed, crystalizes, and the pecans are dry. 

Spread the pecans back on the lined baking tray, and allow to cool and harden for about 20 minutes.

Store in a sealed container.