This banana coconut smoothie tastes like a melted slice of banana coconut cream pie in a glass.
Those of you who have been following me for a while are well aware of my penchant for vegan pie-in-a-glass smoothies. The apple pie, pecan pie, sweet potato pie, blueberry pie, peach pie, cherry pie, and lemon cheesecake smoothies are pretty special.
While this banana coconut smoothie is not the most low-calorie smoothie on the site, it would be right up there with the tastes-like-ice-cream kale shake in terms of the wow factor.
Sometimes you just need a treat, and this one is pure indulgence. Soak the cashews and coconut for the best results, and throw in the healthy boosters, lest you be attacked by pangs of guilt.
Blend your way to bliss with this banana coconut smoothie, and thank me later.
Find more delicious smoothie recipes in The Blender Girl Smoothies app.
*Probiotic Powder – I add 1/2 teaspoon of probiotic powder to all smoothies to replenish stores of healthy bacteria for immunity, digestion, detox, and to balance the acidic effects of high-sugar fruits and other sweeteners. The really potent probiotics require refrigeration. If you have capsules, break the shell and release the powder. Unsweetened probiotic-rich liquids like kefirs (water, coconut water, milk varieties) or kombucha make wonderful health-promoting additions to shakes, too.
*Celtic Sea Salt – I add a pinch (or more) of this alkalizing, mineral-rich salt to all smoothies to boost the natural flavor of fruits and veggies; temper the acidity of sweet fruits and sweeteners; stimulate the lymphatic system; replenish electrolytes; aid digestion; and help the body access energy. I do not recommend adding common table salt which is generally heated to extreme temperatures, iodized, bleached, processed, and refined. This salt does not have the same benefits. If you have a health condition that requires you to limit your sodium intake consult your doctor before adding salt to your smoothies.
BANANA COCONUT CREAM PIE SMOOTHIE

This BANANA COCONUT CREAM PIE SMOOTHIE from The Blender Girl Smoothies app and book is dessert in a glass. So easy and really delicious. If you have a conventional blender soak your cashews and coconut in boiled water for 10 minutes and drain to get the smoothest texture. GET THE FULL PRINTED RECIPE:https://www.theblendergirl.com/recipe/banana-coconut-smoothie/

Posted by The Blendaholic on Friday, August 24, 2018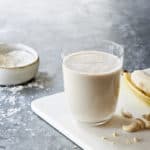 Banana Coconut Cream Pie Smoothie
This vegan banana coconut cream pie smoothie from The Blender Girl Smoothies app is like dessert in a glass.
Servings
2
16-ounce glasses
Instructions
Throw all of the ingredients into your blender (including any boosters) and blast on high for 30 to 60 seconds until smooth and creamy.