The Best Apple Pie Smoothie
I don't really know how to do this apple pie smoothie justice except to say that it is absolutely scrumdidiliumptious! For those of you with greater articulacy and more clarity of expression you may be able to accurately find real words out of the dictionary that adequately prepare the palate for this taste sensation.
But today, I must resort to fictional words in fantasy movies where anything is possible. Actually, perhaps I should steal a phrase from Mary Poppins, and tell you that, in my opinion, this smoothie is "practically perfect in every way". And I don't think I'll need to eat humble pie.
This apple pie smoothie is incredible, and conjures up memories of everything I love about a great piece of apple pie – the creamy buttery apples with a hint of cinnamon, and covered with a melting scoop of vanilla ice cream. This smoothie satisfies the need for a slice of pie without the need to bake.
I'm not a fan of sickly-sweet, syrupy apple pies. So, in the spirit of replicating my perfect bite of apple pie, I've held back on the sweetener in order to let these apples shine. The raw cashews add a nutty pastry flavor, and the cinnamon and vanilla perfect the blend.
How do you like them apples?
Find more delicious recipes in The Blender Girl Smoothies book.
THE BEST APPLE PIE SMOOTHIE

THE BEST APPLE PIE SMOOTHIE ever! This tastes like liquid apple pie a la mode. This is dessert in a glass for a quick easy sweet treat.GET THE FULL PRINTED RECIPE:https://www.theblendergirl.com/recipe/vegan-apple-pie-smoothie/

Posted by The Blendaholic on Sunday, July 29, 2018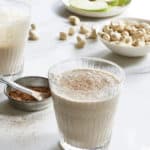 Vegan Apple Pie Smoothie
This vegan apple pie smoothie from The Blender Girl Smoothies app tastes just like a melted slice of pie with ice cream. This is dessert in a glass.
Servings
2
16-ounce glasses
Ingredients
optional boosters
1

tablespoon

lucuma powder

1

cup (44g)

firmly packed baby spinach

1/2

cup (60g)

frozen raw cauliflower florets

1/2

teaspoon

probiotic powder

(see notes)
Instructions
Throw everything into your

blender

(including any boosters) and blast on high for 30 to 60 seconds until smooth and creamy.