This sweet potato smoothie tastes like a melted slice of sweet potato pie a la mode. It is soooooo delicious.
Those of you who've tasted the pumpkin pie, pecan pie, apple pie, blueberry pie, peach pie, cherry pie, and lemon cheesecake smoothies may already share my pie-in-a-glass-smoothie obsession.
If not, here's my spiel: On days when you're not inclined to bake to get your pie-lovin fix, a liquid pie smoothie satisfies the cravings. This healthier spin is gentler on the hips but no less delectable on the lips.
Today, I cast the sensational orange-flesh sweet potato as the star attraction in my liquid pie. This sweet spud is brilliant for immunity. Abundant in beta-carotene (the precursor to vitamin A), sweet potatoes are also rich in antioxidant vitamin C to protect the connective tissue in the skin, as well as combating excessive inflammation, and neutralizing abnormal cell development. Good levels of Iron and potassium make sweet potatoes great for heart health, too.
These tubers are high in fructose, but the good news is that sweet potatoes have built-in blood-sugar moderators in the form of fiber and B vitamins, making their carbs metabolize slowly. Yeah yeah, OK, this is dessert. Let's be honest. It's about the fun.
This sweet potato smoothie is like a holiday hug in a glass. The maple syrup hits the sweet spot, and the spices round out the flavors and add a lovely warming quality. You could add a teaspoon of pumpkin pie spice if you don't want to purchase each individual spice. For people with nut allergies, use coconut or rice milk.
Drink your sweet potato pie and thank me later.
Find this recipe and more delicious smoothies in The Blender Girl Smoothies app.
*Probiotic Powder – I add 1/2 teaspoon of probiotic powder to all smoothies to replenish stores of healthy bacteria for immunity, digestion, detox, and to balance the acidic effects of high-sugar fruits and other sweeteners. The really potent probiotics require refrigeration. If you have capsules, break the shell and release the powder. Unsweetened probiotic-rich liquids like kefirs (water, coconut water, milk varieties) or kombucha make wonderful health-promoting additions to shakes, too.
*Celtic Sea Salt – I add a pinch (or more) of this alkalizing, mineral-rich salt to all smoothies to boost the natural flavor of fruits and veggies; temper the acidity of sweet fruits and sweeteners; stimulate the lymphatic system; replenish electrolytes; aid digestion; and help the body access energy. I do not recommend adding common table salt which is generally heated to extreme temperatures, iodized, bleached, processed, and refined. This salt does not have the same benefits. If you have a health condition that requires you to limit your sodium intake consult your doctor before adding salt to your smoothies.
SWEET POTATO PIE SMOOTHIE

This SWEET POTATO PIE SMOOTHIE from The Blender Girl Smoothies app is really delicious. This is dessert in a glass, and such a great way to enjoy leftover sweet potato. GET THE FULL PRINTED RECIPE:https://www.theblendergirl.com/recipe/sweet-potato-pie-smoothie/

Posted by The Blendaholic on Tuesday, October 16, 2018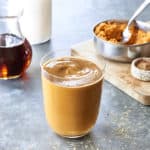 Sweet Potato Pie Smoothie
This sweet smoothie from The Blender Girl Smoothies app tastes just like a melted piece of sweet potato pie. Don't miss it. It is soooo good.
Servings
2
16-ounce glasses
Instructions
Throw all of the ingredients into your blender (including any boosters) and blast on high for 30 to 60 seconds until smooth and creamy.