This maple pecan pie smoothie tastes just like a melted piece of pecan pie a la mode.
Rob and I were in Ojai, California this week and we were baking! Unfortunately not the put-a-pie-in-the-oven kind of baking, rather the it's-too-hot-for-humans kind where you're sweating in embarrassing places you didn't know could weep for themselves.
OK, so perhaps I'm overstating the heat just a tad, and I shouldn't be complaining after escaping the slap-you-in-the-face oppressive heat of Arizona. But when you've been standing under the hot sun in a field knee-deep in bushes for two hours waiting for the light to change, it brings out the where-is-my-assistant-with-the-umbrella princess side of any girl!
We came back to our hotel and were in desperate need of refreshments. Or more accurately, treats! Rob was craving a piece of mum's pecan pie. Flashback to Rob's infamous homage to "George Costanza with the chocolate éclair" when under the guise of doing the dishes after one of our dinner parties was sprung surreptitiously shoveling leftover pecan pie from the plates of our dinner guests!
Today, as we couldn't zap ourselves back into our kitchen; (and quite frankly, had no inclination to bake any further) we decided to do the next best thing, and turn on our blender and make a pecan pie smoothie.
Much like my apple pie, this pecan pie smoothie does even the most coveted slice of pecan pie justice. In the spirit of replicating our perfect mouthful of pie (or more accurately, pie worthy of stealing off other people's plates) we used maple syrup, cinnamon, and vanilla make the pecans sing.
This pecan pie smoothie is a decadent dessert in a glass, and will rock your world.
Find more delicious smoothie recipes in The Blender Girl Smoothies app.
*Probiotic Powder – I add 1/2 teaspoon of probiotic powder to all smoothies to replenish stores of healthy bacteria for immunity, digestion, detox, and to balance the acidic effects of high-sugar fruits and other sweeteners. The really potent probiotics require refrigeration. If you have capsules, break the shell and release the powder. Unsweetened probiotic-rich liquids like kefirs (water, coconut water, milk varieties) or kombucha make wonderful health-promoting additions to shakes, too.
*Celtic Sea Salt – I add a pinch (or more) of this alkalizing, mineral-rich salt to all smoothies to boost the natural flavor of fruits and veggies; temper the acidity of sweet fruits and sweeteners; stimulate the lymphatic system; replenish electrolytes; aid digestion; and help the body access energy. I do not recommend adding common table salt which is generally heated to extreme temperatures, iodized, bleached, processed, and refined. This salt does not have the same benefits. If you have a health condition that requires you to limit your sodium intake consult your doctor before adding salt to your smoothies.
THE BLENDAHOLIC SHOW TRAILER

THE BLENDAHOLIC SHOW TRAILER: Hi, my name is Tess and I'm a Blendaholic. Every Monday I share super easy recipes you can make in your blender! I'm blending up smoothies, cocktails, soups, appetizers, snacks, main meals, and desserts. There isn't anything I won't try in a blender, and all of the recipes are mind-blowingly delicious. So, dust off your blender, and tune in to The Blendaholic every Monday at 7AM PST to find your perfect blend. Find more easy healthy recipes at The Blender Girlhttps://www.theblendergirl.com/

Posted by The Blendaholic on Monday, January 22, 2018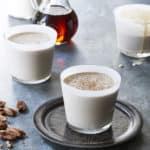 Vegan Maple Pecan Pie Smoothie
This vegan maple pecan pie smoothie from The Blender Girl Smoothies app tastes just like a melted slice of pecan pie. This is dessert in a glass.
Servings
2
16-ounce glasses
Instructions
Throw all of the ingredients into your blender (including any boosters) and blast on high for 30 to 60 seconds until smooth and creamy.