The Best Almond Milk Recipe
---
July 24, 2009
This almond milk recipe is easy to make. Just throw raw almonds in your blender with some water, and add your preferred flavors and sweeteners.
The Best Almond Milk Recipe
If you're wondering how to make almond milk this almond milk recipe is the best one I have tried. This homemade almond milk is rich, creamy, delicious, and is dairy-free, gluten-free, soy-free, and paleo-friendly.
I make a different plant based milk every few days to mix things up for nutrition and flavor diversity. But, unsweetened almond milk is my go-to, because it's loaded with nutrients, is alkaline, mild in flavor, and rich and creamy.
Commercial almond milk is widely available, and is fantastic as a convenience product for use in recipes. But, is largely bereft of nutrients, and often contains additives and preservatives.
How To Make Almond Milk
With this homemade almond milk recipe, you can control the quality and integrity of the finished product – the freshness of the nuts, the sugar levels, and the texture. Furthermore, fresh raw almond milk contains live enzymes with no additives or preservatives.
Make unsweetened almond milk by blending almonds and water. For a richer, creamier milk, add the coconut oil or almond butter and sunflower lecithin. Unsweetened milk is my preference, as it's more alkalizing, and more versatile for use in sweet and savory recipes such as smoothies, soups, salad dressings, sauces, stews, curries, and baked goods. For drinking, or for pouring over breakfast cereals, you may want to add the vanilla and sweetener.
Flavor Your Almond Milk
Once you've made the base recipe, mix things up and flavor the milk to your preference. Chocolate or strawberry milk is always popular. Turmeric milk makes an incredibly anti-inflammatory sleep tonic to drink before bed.
Try add unsweetened almond milk to strained green juice (a mix of spinach, cucumber, and celery) to make green almond milk. This blend is delicious and is a fantastic alkaline tonic. I make a batch every week.
Soak Your Almonds For Activated Almond Milk
For the best results with this almond milk recipe, choose fresh raw almonds, and soak them to neutralize enzyme inhibitors, activate their full nutrient potential, and soften them so they're easy to pulverize. You can find more information on soaking here.
Strain or Don't Strain Almond Milk
Whole, unstrained almond milk is a full-fiber experience, and contains the full nutrients of the whole nut. For a smoother, more commercial-style milk that is great for recipes, strain the milk using a nut milk bag (purchase these online or from health food stores) or knee-high piece of sheer nylon hosiery. Wash the bag thoroughly and dry fully to reuse.
Let me know what you do with your almond milk.
THE BEST ALMOND MILK RECIPE

HOW TO MAKE ALMOND MILK - It is really easy, and tastes so much better than store-bought. You can control the integrity of the milk: the quality of the almonds, the texture, the flavor, and you can make the milk more digestible by soaking. Boot up the flavors with almond butter or almond extract OR flavor your milk with strawberries, chocolate, blueberries and lavender, turmeric and cardamom, or other ideas. GET THE FULL PRINTED RECIPE:https://www.theblendergirl.com/recipe/how-to-make-almond-milk/

Posted by The Blendaholic on Sunday, August 5, 2018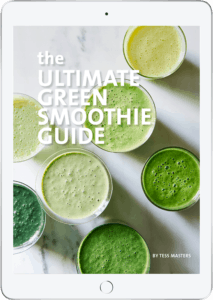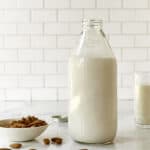 The Best Almond Milk Recipe
This homemade almond milk is raw, loaded with nutrients, and is rich, creamy, and delicious.
Ingredients
sweetened milk (unsweetened milk, plus below):
chocolate almond milk (sweetened milk, plus below):
cinnamon milk (sweetened milk, plus below):
strawberry milk (sweetened milk, plus below):
3

cups

fresh strawberries,

plus more to taste
Instructions
To

soak the almonds

, place the nuts in a glass or ceramic bowl or large glass jar, and cover with filtered water. Add a pinch of Celtic sea salt and splash of fresh lemon juice or apple cider vinegar. Cover the container with a breathable kitchen towel, and allow to soak at room temperature for 12 hours. (For more information on soaking

read here

.)

Drain, and discard the soaking liquid (do not use this to make the milk). Rinse the almonds several times to remove the anti-nutrients and enzyme inhibitors.

To strain, place a nut milk bag or knee-high piece of sheer nylon hosiery over the opening of a glass bowl, jar or jug. Pour the milk into the bag, twisting the bag closed, and gently squeezing it to pass the liquid through. Empty the almond pulp aside. You can dehydrate this for use in smoothies or to make crusts. Or make this quick easy body scrub.

Rinse your blender container, and pour the strained milk back in. Add the vanilla, sweetener, and any flavorings, and blast again, until smooth and creamy.

Store the milk in a sealed container in the fridge. Activated almond milk (made with soaked almonds) will keep for 2 to 3 days in a very cold fridge. Unsoaked almond milk will keep for about 5 days.