This homemade cashew milk is super easy, rich and creamy, and absolutely delicious.
Cashews, the cows of the vegan world, yield delicious milk and cream. Raw cashew milk is rich and buttery, and most closely resembles the look and texture of dairy milk. By blending cashews and water, you can make a milk that's incredibly smooth, and doesn't need straining.
Cashew milk is delicious in smoothies, creamy cocktails, desserts, soups, and stews. I use raw cashews to replicate the buttery pastry flavor of pie crust in dessert smoothies: apple pie smoothie, pecan pie smoothie, sweet potato pie smoothie, banana coconut cream pie smoothie, lemon cheesecake smoothie, and tastes-like-ice-cream kale shake.
When making cashew milk, purchase fresh raw cashews from a supplier with a high turnover. Like all nuts, the high fat content makes them susceptible to rancidity. Store your cashews them in an airtight glass container in the fridge. They should keep fresh like this for about 4 months.
Most "raw cashews" are not truly raw. They're just "not roasted", and have been steamed out of their shells. "Truly Raw" cashews are harvested without heating, and are, instead, split open and out of their shell by hand, leaving the cashew nut raw. The bud is left in tact, and can sprout and grow. These truly raw cashews are amazing. They're a little bit sweeter and contain more nutrients. But, they're extremely expensive, making them cost prohibitive for most of us on an average grocery budget. Regular cashews are expensive enough. So, for everyday purposes, I'm calling all regular "raw" cashews raw. But, I thought I'd share some nutty knowledge.
Cashews are a good source of protein, vitamins B and E, and minerals such as magnesium, zinc, copper, iron, and calcium to support heathy bones, teeth, and muscles. Cashews have a lower fat content per serving than peanuts, almonds, walnuts and pecans, and their monounsaturated fatty acids, such as oleic acid help regulate blood pressure and cholesterol for heart health. These nifty nuts also have a high energy density to combat fatigue.
Having said all of this, I use cashews sparingly to make treats. I don't consume them on a daily or even weekly basis as they contain over 25 different strains of fungi, which means they can be high in bacteria, yeast, fungus and mold, which can produce mycotoxins in the body.
But, I do love cashew milk as a treat.
THE BLENDAHOLIC SHOW TRAILER

THE BLENDAHOLIC SHOW TRAILER: Hi, my name is Tess and I'm a Blendaholic. Every Monday I share super easy recipes you can make in your blender! I'm blending up smoothies, cocktails, soups, appetizers, snacks, main meals, and desserts. There isn't anything I won't try in a blender, and all of the recipes are mind-blowingly delicious. So, dust off your blender, and tune in to The Blendaholic every Monday at 7AM PST to find your perfect blend. Find more easy healthy recipes at The Blender Girlhttps://www.theblendergirl.com/

Posted by The Blendaholic on Monday, January 22, 2018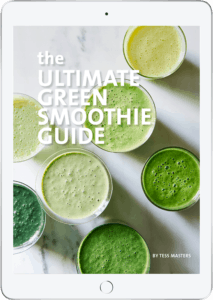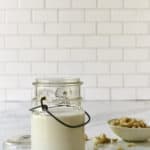 Homemade Cashew Milk
This raw homemade cashew milk is rich, creamy, delicious, and so easy to make.
Ingredients
unsweetened cashew milk:
1

cup

raw cashews,

 soaked for 2 hours and drained

3

cups

filtered water 

Pinch

of Celtic sea salt
sweetened milk (unsweetened milk, plus below):
1

teaspoon 

natural vanilla extract 

3 to 6

pitted dates

(or 2 to 3 tablespoons pure maple syrup or other sweetener)

1

tablespoon 

sunflower lecithin 

(optional)
chocolate milk (sweetened milk, plus below):
2

tablespoons 

cacao powder,

plus more to taste 
cinnamon milk (sweetened milk, plus below):
1

teaspoon 

ground cinnamon,

plus more to taste​
strawberry milk (sweetened milk, plus below):
3

cups

fresh strawberries,

plus more to taste
Instructions
To soak the cashews, place the nuts in a glass or ceramic bowl or large glass jar, and cover with filtered water. Add 1 teaspoon Celtic sea salt and splash of fresh lemon juice or apple cider vinegar, cover the container with a breathable kitchen towel, and allow to soak at room temperature for 2 hours. (For more information on soaking read here.)

Drain, and discard the soaking liquid (do not use this to make the milk). Rinse the cashews several times to remove the anti-nutrients and enzyme inhibitors. 

Throw the rinsed cashews, water, and salt in your blender, with any additions (if using), and blast on high for about 60 seconds, until smooth and creamy. (There is no need to strain.)

Store the milk in a sealed container in the fridge. Activated cashew milk (made with soaked cashews) will keep for 2 to 3 days in a very cold fridge. Unsoaked cashew milk will keep for about 5 days.