Key Lime Pudding
from The Blender Girl cookbook
---
April 7, 2010
This key lime pudding takes less than 10 minutes to throw together, and has a sweet, tangy, and zesty flavor that is divine.
Key Lime Pudding
This super-easy key lime pudding from The Blender Girl cookbook is zesty and refreshing. You don't need key limes to make it (you get that flavor by combining limes and lemons). If you're a tart-at-heart (like me) and love sharp, tangy notes, you're gonna be in heaven. Those of you who like your citrus on the sweeter side may want to add more maple syrup to taste.
You could make a straight lemon pudding by using 1 cup lemon juice and 2 teaspoons lemon zest, or just lime pudding with 1 cup lime juice and 2 teaspoons lime zest. But, the combination of lemon and lime juice and rind delivers a depth of flavor that's hard to beat.
I first became smitten (or should I say bitten) with key lime pudding in the Florida everglades in a little fishing shack off the river. The mosquitos were eating me alive! I imagined them the size of cockroaches as they successfully gnawed through my jeans. While they were biting through my jeans, I was biting my tongue trying to prevent myself from ordering yet another and another and another key lime pudding.
This healthier incantation using a base of avocado and banana has a little less bite to the hips, but no less bite on the lips. Trust me, let the tart in you sing, and you won't be sorry. This pudding is sublime.
Get 100 Delicious Healthy Recipes
My Top 100 Healthy Recipes are in The Blender Girl cookbook.
Please let me know what you think of this recipe in the comments!

Your feedback is really important to me, and it helps me decide which recipes to post next for you.
EASY KEY LIME PUDDING

This 5 MIN "KEY LIME" PUDDING is so quick and easy, and absolutely delicious. Just throw everything into the blender and chill. I'm using a mixture of lemon and lime to get the "key lime" flavor as key limes are seasonal and not available all around the world. GET THE PRINTED RECIPE:https://www.theblendergirl.com/recipe/vegan-key-lime-pudding/

Posted by The Blendaholic on Wednesday, July 18, 2018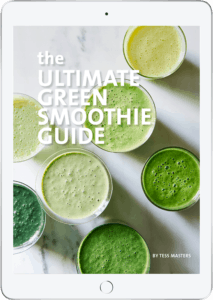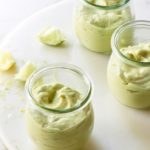 Key Lime Pudding
This key lime pudding takes less than 10 minutes to throw together, and has a sweet, tangy, and zesty flavor that is divine.

Ingredients
1

teaspoon

finely grated lemon zest

1/2

cup (120ml)

fresh lemon juice

1

teaspoon

finely grated lime zest

1/2

cup (120ml)

fresh lime juice

1/3

cup (80ml)

pure maple syrup,

plus more to taste

2

ripe avocados,

pitted and peeled (no bruising or discoloration)

2

cups (285g)

chopped bananas

(2 medium bananas)

Pinch

of Celtic sea salt
Instructions
Throw all of the ingredients into your blender and blast on high for 30 to 60 seconds, until well combined. Tweak sweetener to taste. 

Divide the pudding among four serving glasses, and chill in the fridge for about 3 hours to thicken. Serve the same day, chilled, to avoid oxidation. 

Note: This pudding works best with ripe avocados that don't have any brown discolorations. Over-ripe or bruised avocados detract from the flavor.