"Honuts" – Baked Vegan Gluten-Free Donuts
---
April 8, 2019
These Baked Vegan Gluten-Free Donuts are super easy to make, and are much healthier than traditional fried donuts. Glaze them with your favorite frosting.
"Honuts" – Baked Vegan Gluten-Free Donuts
Donut Lovers: these baked vegan gluten-free donuts are for you! I have received countless requests over the years for a healthy vegan donut recipe or a healthy gluten-free donut recipe. But, as I'm not a phenomenal baker, and feel hopelessly unqualified to develop an amazing vegan and gluten-free doughnut recipe that would stand up to the best conventional doughnut, I've never answered the call!
The Best Vegan Gluten-Free Doughnuts in The U.S
There are incredible vegan donuts and gluten-free donuts on offer at most commercial donut eateries across the country from huge national outlets like Krispy Kreme and Dunkin Donuts, to regional favorites such as Voodoo Donuts (Portland), Blue Star Donuts (Portland), Dun-Well Doughnuts (NYC), Kettle Glazed Dougnuts (LA), Fonuts (LA), and Erin Mckenna's Bakery (NYC and LA). But, sometimes you don't want to drive across town to get your fix.
And, there is one thing that beats an epic doughnut from your favorite bakery: an amazing homemade donut made by YOU!
So, I turned to my friend, Susan Jane White, who adapted the famous vegan gluten-free doughnuts from Erin McKenna's Bakery for her book, The Virtuous Tart.
Are Vegan Donuts Healthier?
These vegan, gluten-free doughnuts do skip the trans-fats, processed animal fats, eggs, and refined sugars. So, if I'm going to eat a donut, these are the ones I grab for. However, these vegan donuts are still high in sugar. This recipe is all about the fun!
What Is a Vegan Gluten-Free Donut Made Out Of?
Gluten-Free doughnuts utilize a variety of starchy and fibrous gluten-free flours with baking powder xanthan or guar gum. (This recipe is free from gums.) You can use almond, cashew, or coconut milk in place of cow's milk, and vegan butter, coconut oil, or grapeseed oil in place of dairy butter. Some people use egg replacers, or use applesauce, mashed banana, mashed pumpkin, or chia or flax eggs.
This vegan gluten-free donut recipe uses a mix of brown rice flour, potato flour, chickpea flour, and arrowroot, with baking powder. For the eggs, it contains applesauce, and in place of butter, the recipe contains melted coconut oil.
Are Baked Donuts Healthier?
Conventional yeast-raised doughnuts or cake doughnuts are deep fried balls of dough, sugar, and oil. Baked doughnuts skip the deep-fryer and use less oil, but they still contain a ton of sugar. So, they're healthier. But, still not the healthiest treat on offer. But, sometimes, you just have to have a doughnut!
How Long Do Baked Donuts Last?
Freshly baked conventional donuts usually last for about 1 to 2 days in a sealed container at room temperature or up to a week in the fridge. (Cream-filled donuts always need to be kept in the fridge.) But, as Susan Jane says, "these honuts flirt with their own mortality after 8 hours. Best to eat them straight away." These baked donuts are absolutely best eaten right after they're made. They are sooo good warm right out of the oven! But, the next day, they're worse than Cinderella. They're like sad lonely bricks! So, use them or lose them!
What Is The Best Donut Pan?
I personally prefer silicone or non-stick donut pans to make these doughnuts so they don't stick and are easy to release so that they keep their shape.
Here are some that rate really well:
Wilton 6 Cavity Non-Stick Donut Pan (2-piece)
Hehali 2-Piece 6-Cavity Silicone Donut Baking Pan
Chefast Non-Stick Donut Pans
The Virtuous Tart
Besides these baked donuts, there a ton of other decadent recipes that are all wheat-free, dairy-free, and cane sugar-free in The Virtuous Tart cookbook. Although, you could be mistaken for thinking this was a comedy script. Susan Jane is one hilarious and witty writer, and her turn of phrase and sensibility will make you smile, chuckle, or howl with side-splitting laughter. Guffaws were uncorked when I flipped my way through this brilliant book.
And the recipes will have you snacking your lips and craving each and every recipe as you turn the pages. There are some really inventive flavor combos in this collection, as well as some tried and tested favorites.
Susan Jane opens the book in entertaining fashion with the tale of how she ditched processed foods and refined sugars, and gives the lowdown on the sweeteners, fats, flours, and flavors she uses in the recipes in the book. And, then it's just one delicious, decadent treat after another – everything from (as she calls them) virgin drinks, to virtuous tarts and saintly treats, to born-again truffles.
As Susan Jane says, "I love cooking for flavor, but cooking for the food of my body makes me giddy. It's like dating a terribly tasty hunk, then finding out he's rich, too!"
Some of my favorite recipes include:
Coffee and Almond Milkshake
Probiotic Coffee
Earl Grey Chocolate Tartlets
Camu Camu Cookies
Apple and Winter Squash Crumble
Chocolate Seed Soldiers
Strawberry and Licorice Ice Cream
Peppermint-Laced Energy Balls
Run and get your copy of The Virtuous Tart and learn more about Susan Jane White.
Other GF Vegan Baked Treats You Will Love
Vegan Gluten-Free Apple Pie
Vegan Gluten-Free Brownies
Vegan Gluten-Free Pumpkin Bread
Vegan Gluten-Free Carrot Cupcakes
Gluten-Free Vegan Berry Pie
Please let me know what you think of this recipe in the comments!
Your feedback is really important to me, and it helps me decide which recipes to post next for you.
THE BLENDAHOLIC SHOW TRAILER

THE BLENDAHOLIC SHOW TRAILER: Hi, my name is Tess and I'm a Blendaholic. Every Monday I share super easy recipes you can make in your blender! I'm blending up smoothies, cocktails, soups, appetizers, snacks, main meals, and desserts. There isn't anything I won't try in a blender, and all of the recipes are mind-blowingly delicious. So, dust off your blender, and tune in to The Blendaholic every Monday at 7AM PST to find your perfect blend. Find more easy healthy recipes at The Blender Girlhttps://www.theblendergirl.com/

Posted by The Blendaholic on Monday, January 22, 2018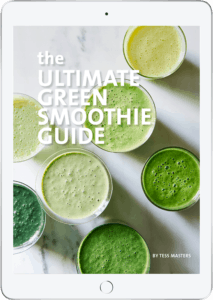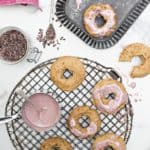 "Honuts" - Baked Vegan Gluten-Free Donuts
These Baked Vegan Gluten-Free Donuts are super easy to make, and are much healthier than traditional fried donuts. Glaze them with your favorite frosting.
Instructions
Pre-heat your oven to 350°F/180°C/160°C fan.

Brush two six-mold donut trays with melted coconut oil and set aside. (If you only have one donut tray, cook in two batches.)

In a bowl, whisk together the dry ingredients, and set aside.

Add the wet ingredients (the hot water, melted coconut oil, applesauce and vanilla) to your blender, and process for 5 to 10 seconds, until well combined. Add the dry ingredients, and process on high for 20 to 30 seconds until smooth.

Drop spoonfuls of batter into each donut mold, using the end of your spoon handle to drag the batter around the ring.

Bake the donuts for 20 to 22 minutes until cooked through. Let them cool in the mold for 5 minutes before releasing with a knife.
Recipe Notes
Recipe and photo published with permission from The Virtuous Tart by Susan Jane White.