Gluten-Free Vegan Berry Pie
---
June 25, 2019
This amazing gluten-free vegan pie has an incredible vegan gluten-free pie crust and exquisite filling. Serve with ice cream. Pie lovers: this is for you!
THE BLENDAHOLIC SHOW TRAILER

THE BLENDAHOLIC SHOW TRAILER: Hi, my name is Tess and I'm a Blendaholic. Every Monday I share super easy recipes you can make in your blender! I'm blending up smoothies, cocktails, soups, appetizers, snacks, main meals, and desserts. There isn't anything I won't try in a blender, and all of the recipes are mind-blowingly delicious. So, dust off your blender, and tune in to The Blendaholic every Monday at 7AM PST to find your perfect blend. Find more easy healthy recipes at The Blender Girlhttps://www.theblendergirl.com/

Posted by The Blendaholic on Monday, January 22, 2018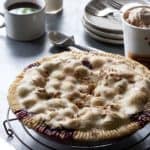 Gluten-Free Vegan Berry Pie
This amazing gluten-free vegan pie has an incredible vegan gluten-free pie crust and exquisite filling. Serve with ice cream. Pie lovers: this is for you!

Prep Time
2
hours
45
minutes
Total Time
3
hours
45
minutes
Servings
1
9" deep-dish pie
Ingredients
Instructions
For the dough, Mix dry ingredients together.

For the GF pastry flour, mix ingredients together and store in the freezer until used.

In your food processor, add the fats cut up into large pieces (about 1 Tbs size) and pulse 15-20 times. Add vinegar and pulse 5 times more. Add water, holding back a tablespoon or so, and pulse 10 times. Add more ice water if needed. (The dough should feel very soft and somewhat sticky.)

Scrape the dough out of the food processor and quickly pull it all together into a large ball about the size of a softball. Divide the dough in half and wrap each half in plastic and form into a chubby disk about the size of a hockey puck.

Chill dough for at least 2 hours or up to 2 days.

For the filling, place frozen berries, coconut sugar, nutmeg, lemon juice, lemon zest, salt, flour, and tapioca into a large mixing bowl. Mix together and set aside to partially thaw while you roll out your crust.

Preheat your oven to 425 degrees F.

Remove chilled dough from fridge and unwrap.

To assemble the pie, roll gently between two pieces of plastic wrap sprinkled well with Michiko flour until it is about 1 inch larger than your pie pan/plate.

With the plastic still on, place the pin in the middle of the dough and drape the dough over the pin until both edges meet. Carefully peel what was the bottom piece of plastic off.

Place the pin with dough in the center of the pan/plate and roll it off to the other side. You may need to help it along with your hand. The remaining piece of plastic will now be on top. If there are any rips or tears in the dough, carefully move them back together with your fingers on the plastic. When all the dough is relatively one, carefully take off the remaining piece of plastic.

Mix filling again, and then place into the chilled crust. Dot with a little bit of vegan butter and set aside.

Roll out the 2nd dough disk if you are making a double crusted pie. Trim and crimp the edges of the pie. Sprinkle with the remaining coconut sugar.

Bake on the middle rack of your oven until the crust is just golden, about 15 – 20 minutes.

Reduce heat to 350 F and bake until golden brown and bubbling, about 30 – 40 minutes more.

Remove from the oven and allow to cool before serving.
Other Gluten-Free Vegan Pies and Cakes