Spicy Vegan Aloo Gobi
---
April 1, 2019
This spicy vegan aloo gobi is easy to throw together, has a divine flavor, and is a delicious served with rice, quinoa, or cauliflower rice.
Spicy Vegan Aloo Gobi
I absolutely love Indian food, and this spicy vegan aloo gobi recipe from The Ultimate Vegan Cookbook is super easy to throw together, has a divine flavor, and is a delicious main or side dish served with rice, quinoa, or cauliflower rice.
What is Aloo Gobi?
This Indian dish, also popular in Pakistan, Bangladesh, and Nepal is a Punjabi classic made with potatoes (aloo) and cauliflower (gobi) that is served at most Indian restaurants in the West. You may find Aloo Gobi referred to as Indian Spiced Potatoes and Cauliflower. Either way, Aloo Gobi is a really inexpensive and super easy dish that you can throw together in about 30 minutes.
There are quite a few variations on Aloo Gobi depending on the regional source of the recipe. But, a basic Aloo Gobi utilizes a warming blend of spices such as ginger, coriander, cumin, turmeric, garam masala, cardamom, and cayenne pepper mixed with garlic, onion, and tomatoes.
Some recipes use just onions or just tomatoes. This recipe doesn't use any onion, and just adds a little bit of tomato puree. it also uses red pepper flakes in place of fresh chile or cayenne pepper. But, you could absolutely sauté some onions and add them in.
How Do You Cook Aloo Gobi?
Some recipes cook everything in one pot on the stove top, others call for a slow cooker or Instant Pot. Some recipes par-boil the potatoes and steam the cauliflower, and then throw it into the pot with the spices.
I prefer the method in this recipe where you pre-cook the vegetables in the oven to ensure they are cooked evenly. When you roast the potatoes and cauliflower, it prevents the vegetables from getting mushy (a common problem when making Aloo Gobi) and you also get a really divine flavor. It is just delicious.
What Do You Serve Aloo Gobi with?
Aloo Gobi is traditionally enjoyed topped with some chopped fresh cilantro, and served with rice, and naan or roti bread, and the traditional chutneys, pickles, and other sides. You could also serve this with quinoa, amaranth, or millet, or even cauliflower rice.
The Ultimate Vegan Cookbook
I chose to feature this Aloo Gobi recipe because it is one of my go-to Indian dishes. But, this book is a collection of over 600 amazing plant-based recipes by Emily Von Euw, Kathy Hester, Linda and Alex Meyer, Celine Steen, Amber St Peter, and Marie Reginato (who developed this aloo gobi). If I didn't love Aloo Gobi so much it would have been really difficult to pick a recipe.
With over 600 vegan recipes from seven vegan authors and recipe developers, this cookbook has enormous variety with something for everybody. There are super easy plant-based recipes for smoothies, drinks, breakfasts, appetizers, snacks, soups, salads, mains, sides, desserts, desserts, sauces, dressings, and pantry staples, as well as recipes for slow cookers, Instant Pots, and air fryers. There are gluten-free, soy-free, and sugar-free options, and many of the recipes come together in 30 minutes or less.
My Favorite Recipes in The Ultimate Vegan Cookbook:
BBQ Pulled Jackfruit Sandwich
Spicy Kimchi Pizza
Wild Mushroom and Ricotta Ravioli
Indian-Spiced Chana Dal Shepherd's Pie
Roasted Sweet Potato Chili
BLT Salad with Smoky Spicy Mayo
Lemon Curry Hummus
Dark Chocolate Rosemary Cookies
Spicy Black Bean Brownies
Strawberry Rhubarb Crumble
Hot White Chocolate
Ponzu Sauce
Get your copy of The Ultimate Vegan Cookbook and learn more about Marie Reginato.
Other Indian Recipes You Will Love:
Potato, Cauliflower, & Green Bean Curry
Chickpea Crepes
Cilantro Mint Chutney
Banana Cardamom Lassi
Please let me know what you think of this recipe in the comments!
Your feedback is really important to me, and it helps me decide which recipes to post next for you.
THE BLENDAHOLIC SHOW TRAILER

THE BLENDAHOLIC SHOW TRAILER: Hi, my name is Tess and I'm a Blendaholic. Every Monday I share super easy recipes you can make in your blender! I'm blending up smoothies, cocktails, soups, appetizers, snacks, main meals, and desserts. There isn't anything I won't try in a blender, and all of the recipes are mind-blowingly delicious. So, dust off your blender, and tune in to The Blendaholic every Monday at 7AM PST to find your perfect blend. Find more easy healthy recipes at The Blender Girlhttps://www.theblendergirl.com/

Posted by The Blendaholic on Monday, January 22, 2018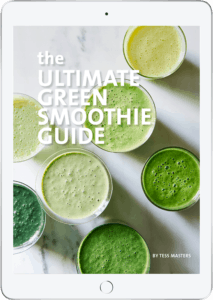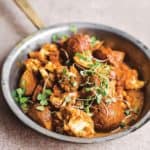 Spicy Vegan Aloo Gobi
This spicy vegan aloo gobi is super easy to throw together, has a divine flavor, and is a delicious served with rice, quinoa, or cauliflower rice.

Instructions
Preheat the oven to 420°F (215°C). In a large mixing bowl, toss in half of the olive oil, cauliflower florets, potatoes and a generous sprinkling of sea salt. Mix well and place onto a parchment paper–lined baking dish. Cook for 25 minutes or until the cauliflower and potatoes are tender.

In the meantime, make the sauce. In a large skillet over medium heat, warm the remaining olive oil and all the spices, tomato purée and garlic. Let this simmer for a few minutes before adding the water. Add the water and let it warm for a few minutes. Now set the sauce aside until the cauliflower and potatoes have finished cooking.

Once they're done, bring the sauce back to the stove and add the roasted cauliflower, potatoes and lemon juice. Mix well, and warm over medium-high heat for about 5 minutes. Serve over a bed of rice or quinoa, and top with cilantro and sea salt.