Vegan Gluten-Free Apple Pie
---
November 13, 2016
This is the best vegan gluten free apple pie I've ever had. This recipe from The Art Of The Pie cookbook is epic, and is always a show-stopper.
This is the best vegan gluten-free apple pie I've ever had.
Those of you who've made the frozen berry pie I posted several years ago would be familiar with the genius of my dear friend Kate McDermott from Art Of The Pie. Those of you who are new the site, get ready for epic vegan gluten-free apple pie because this lovely lady is a pie master!
She's also one of the loveliest people on the planet, and her new book, Art Of The Pie is my go-to holiday gift this year, because everybody should know how to make an awesome pie. This book is flying off the shelves this holiday season because it is epic!
Art Of The Pie: A Practical Guide To Homemade Crusts, Fillings, and Life (with stunning images from Andrew Scrivani) is THE pie-making bible for any kind of pie you could ever want to make.
Kate teaches master chefs and bakers (and some of the most famous people in the food world) how to make pie. People fly her all over the world to teach pie-making classes. I had the pleasure of attending one of her classes a few years ago, and it was utterly magical.
Ruth Reichl, former editor of Gourmet and author of My Kitchen Year says, "I've been baking pies my whole life, but making them with Kate was a liberating experience. With pioneer spirit, she throws the textbook out the window and comes up with absolutely perfect crust filled with fruit that actually sings to you."
Dorie Greenspan, award-winning author says "Baking from Art of the Pie is like having pie maker Kate McDermott at your elbow, encouraging, instructing and cheering you on. Whether you're a seasoned pie hand or a beginner with more enthusiasm than skill, Kate's got you covered."
With her vast experience making pie, Kate has developed more than a dozen fool-proof crust recipes (conventional, vegan, and gluten-free varieties), and in this book she shares all of these recipes so you can make perfect pies for your family. She gives you step-by-step instructions for making, rolling, and baking crusts, as well as how to make incredible pie fillings with seasonal fruit. Organized loosely by type of fruit, style of pie, and sweet versus savory, the recipes in this book range from family favorites to exotic creations, so there's recipes for novice pie makers to more seasoned bakers.
Kate shares practical tips for: stocking your kitchen with a few pie-making tools, measuring ingredients for success, using your oven effectively for the best crumb and crust, caring for your rolling pins, how to use pastry cloths, choosing pie pans, plates, and tins, and how to make, roll, cool, and blind bake a crust.
There is a very comprehensive chapter on how to make perfect pie dough (the principles of flour, salt, fat, and water), with recipes for every kind of traditional, gluten-free, and vegan dough, as well as instructions for making vents, appliques, crimps, flutes, and lattices, as well as tips for washes and glazes.
Kate has an amazing gluten-free flour mix that is my go-to recipe for pie dough. There is a gluten-free all-butter dough (I use vegan butter), a gluten-free butter and shortening dough, gluten-free no-bake crust, and gluten-free vegan dough (my go-to recipe). Kate relies of Dr Jean Layton's famous Pixie Dust recipe to help bind the dough.
Once you've got the crust covered, the chapter on fillings is amazing. Kate covers fruit, sweeteners, seasonings, and thickeners to help you fill and finish your pies. This book not only has incredible recipes, but arms you with the tools to get creative and create your own pies with whatever seasonal produce you have.
There are recipes for hand pies, jam pies, pie pops, fried pies, rustic tarts, crumbles, and an entire chapter on making the quintessential apple pie! Kate covers all of the varieties of apples, and shares recipes for the basic apple pie (which I'm sharing today), apple cranberry walnut pie, apple quince pie, and some pear pies.
Then, of course, there's the berry pies: blackberry, blueberry, raspberry, cranberry, triple berry, forest berry, huckleberry, marionberry, red currant, gooseberry, and raspberry salmonberry. There's also the popular peach, apricot, rhubarb, lemon meringue, pecan, and pumpkin pies, as well as angel food, grasshopper, banana rum caramel coconut, mocha cream, and chai pie recipes. If you're after savory pies, there's recipes for chicken pot pit, cottage, shepherd's, ratatouille, and pork pies.
What I love the most about this book is the way Kate weaves traditional prep notes into heart-warming anecdotes. She likens pie making to life.
Kate's Rules Of Pie Making and Life:
#1: Keep everything chilled, especially yourself
#2: Keep your boundaries
#3: Vent
It just about covers it, doesn't it?
So, here's The Quintessential Apple Pie.
Kate says, "This gluten-free vegan dough is a bit sandier then traditional pie dough, and like any gluten-free dough I have worked with it is more fragile. For the filling, I don't peel apples as most skins become soft in the baking, plus their tannins add flavor to the pie. If there is an apple with skin you find too thick, it's just "off with their jackets!" as Henry Ward Beecher wrote. A mix of six to eight different varieties, some for tart, some that hold their shape, and some that don't, will give you a pie with exceptional flavor and texture."
My dad loves apple pie, and this vegan gluten-free apple pie is going to be a staple in our family, I just know it. It's certainly going on our thanksgiving table this year.
Pie lovers: RUN don't walk to order your copy of Art Of The Pie. Kate taught me how to make pie, and I'm pretty darm good at it now (when I never was before) because of her tips, tricks, and recipes. This book is utterly exquisite, and will steal your heart just as it has mine.
Learn more about Kate McDermott and book your spot in one of her famous pie-making classes at Art Of The Pie.
THE BLENDAHOLIC SHOW TRAILER

THE BLENDAHOLIC SHOW TRAILER: Hi, my name is Tess and I'm a Blendaholic. Every Monday I share super easy recipes you can make in your blender! I'm blending up smoothies, cocktails, soups, appetizers, snacks, main meals, and desserts. There isn't anything I won't try in a blender, and all of the recipes are mind-blowingly delicious. So, dust off your blender, and tune in to The Blendaholic every Monday at 7AM PST to find your perfect blend. Find more easy healthy recipes at The Blender Girlhttps://www.theblendergirl.com/

Posted by The Blendaholic on Monday, January 22, 2018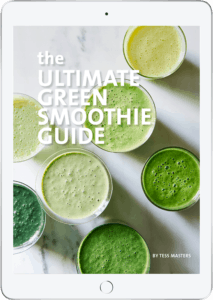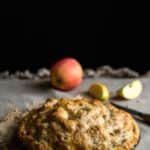 Vegan Gluten-Free Apple Pie
This is the best vegan gluten free apple pie I've ever had. This recipe from The Art Of The Pie cookbook is epic, and is always a show-stopper.

Prep Time
1
hour
10
minutes
Servings
1
9-inch deep-dish pie
Ingredients
crust:
3/4

cup (95g)

tapioca starch

3/4

cup (98g)

cornstarch

3/4

cup (116g)

sweet white rice flour,

plus more for rolling dough

1/4

cup (87g)

potato starch

1/3

cup (41g)

sorghum flour

1/2

teaspoon (3g)

Celtic sea salt

1

tablespoon (12g)

sugar

2

teaspoons

Jean Layton's Pixie Dust

(recipe below)

8

tablespoons (112g)

vegan butter stick

8

tablespoons (112g)

vegetable shortening

1

tablespoon (15g)

apple cider vinegar

5 to 7

tablespoons (60 to 84g)

ice water

Almond

hemp, or soy milk, for glazing
filling:
10

cups

heritage apples,

skin on, quartered and cored, to mound up high in the pie pan

1/2

cup (100g)

sugar

1/2

teaspoon (3g)

Celtic sea salt

1

teaspoon (2g)

ground cinnamon

2

gratings

nutmeg

1/2

teaspoon (1g)

allspice

1

tablespoon (12g)

apple cider vinegar

(or 1 to 2 teaspoons fresh lemon juice)

1 to 2

tablespoons (15 to 30g)

apple liqueur

(optional)

1/2

cup (73g)

gluten-free all-purpose flour
assembly:
1

knob

vegan butter

(the size of a small walnut, cut into small pieces for dotting the top of the filling)

1 to 2

teaspoons (4 to 8g)

sugar,

for sprinkling on top of the pie
Dr Jean Layton's pixie dust:
3

parts

golden flax seeds

2

parts

chia seeds

black or white

1

parts

psyllium powder

(ground psyllium husks)
Instructions
To make the crust, mix the dry ingredients together and place them in a food processor.

Add all the fats (cut up into tablespoons-size pieces) and pulse 15 to 20 times until well combined. Add the vinegar and pulse 5 times more. Add 5 tablespoons (60g) of water and pulse 10 times. (The dough should feel very soft and somewhat sticky. Add more ice water if needed.)

Scrape the dough out of the food processor, and quickly pull it all together into a large ball about the size of a softball. Divide the dough in half, wrap each half in plastic wrap, and form each into a chubby disc about the size of a hockey puck.

Chill the dough for 2 hours.

Unwrap one disc of chilled dough and place it on a large sheet of plastic wrap that has been dusted with sweet white rice flour. Sprinkle another teaspoon on top of the dough and cover it with an additional large sheet of plastic wrap. With a light touch, quickly roll out the dough to approximately 9 to 10 inches (23 to 25cm) in diameter and to 1/3-inch thick (a bit less than 1cm).

With plastic on BOTH sides, drape the dough over the rolling pin and carefully peel off the outer layer of plastic wrap. (The inside plastic layer will be touching the pin.) Carefully place the dough-covered rolling pin in the middle of the pie pan. Unfold the dough and keep the plastic wrap on. Use your fingers to adjust and smooth the dough. (There may be some overhang of dough on the sides of the pan.) With the plastic wrap still in place, place the dough-filled pie pan in the fridge or freezer for a few minutes to re-chill.

When chilled, carefully peel the plastic off using quick little tugs and fill the pie pan with already prepared filling. Roll out the top dough as before and place it on top of the filling. Keeping the plastic in place, adjust the top as needed. Pinch off any extra dough around the edge. With plastic wrap covering the edge, carefully crimp or finish as desired. Carefully remove the plastic wrap using quick little tugs.

To vent, cut one circle about 1 inches (about 3.5cm) in diameter and remove.

Chill, and before baking brush with a bit of almond, hemp, or soy milk.

To make the filling, slice the apples into 1/2-inch (1.5cm) thick slices, or chunk them up into pieces you can comfortably get into your mouth.

In a large mixing bowl, put the apples, sugar, salt, cinnamon, nutmeg, allspice, vinegar, calvados, and flour, and mix lightly until most of the surfaces are covered with what looks like wet sand.

Pour the mixture into an unbaked piecrust, mounding high, and dot with butter.

Roll out the remaining dough, lay it over the fruit, and cut 5 to 6 vents on top. Trim the excess dough from the edges and crimp.

Cover the pie and chill in refrigerator while you preheat the oven to 425°F (220°C).

Lightly brush some of the almond milk over the entire pie, including the edges, and bake on the middle rack of the oven for 20 minutes.

Reduce the heat to 375°F (190°C) and bake for 30 minutes longer.

Open the oven and carefully sprinkle sugar evenly on top of the pie, then continue baking for 10 minutes more.

Look for steam and a slight bit of juice coming out of the vents before removing the pie from the oven. Get your ear right down almost to the top of the pie and listen for the sizzle-whump sound. 

Cool the pie for at least an hour, and then serve with ice cream and cashew cream.