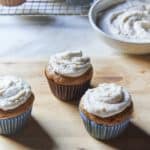 Gluten-Free Vegan Carrot Cupcakes
These gluten-free vegan carrot cupcakes from Erin McKenna of Babycakes NYC rock!
Instructions
To make the frosting, combine the soy milk, soy powder, coconut flour, maple syrup, and vanilla in your blender.

Blend the ingredients for 2 minutes.

With the machine running, slowly add the oil and lemon juice, alternating between the two until both are fully incorporated.

Pour the mixture into an airtight container and refrigerate for 6 hours or for up to 1 month.

If you are using this mixture as a sauce, store the mixture at room temperature for up to 1 week.

To make the cakes, preheat the oven to 325 F.

Line 2 standard 12-cup muffin tins with paper liners.

In your food processor, mix together the flour, baking powder, baking soda, xanthan gum, salt, cinnamon, ginger, and nutmeg.

Add in the oil, agave nectar, rice milk, and vanilla to the dry ingredients just until a thick batter forms.

Slowly add the hot water and continue mixing until the batter is smooth.

Using a plastic spatula, gently fold in the carrots just until they are evenly distributed throughout the batter.

Pour 1/3 cup batter into each prepared cup, almost filling it.

Bake the cupcakes on the center rack for 25 minutes, rotating the tins 180 degrees after 14 minutes. The finished cupcakes will bounce back slightly when pressed, and a toothpick inserted in the centre will come out clean.

Let the cupcakes stand in the tins for 20 minutes, then transfer them to a wire rack and cool completely. 

Using a frosting knife, gently spread 1 tablespoon of vanilla frosting over each cupcake.

Store the cupcakes in an airtight container in the refrigerator for up to 3 days.