This delicious vegan gluten-free pumpkin bread is from my dear friend Alisa from Go Dairy Free. If you're looking for delicious recipes and tips for living dairy-free, this is one of the most trusted resources.
On the site, Alisa shares her guide for dairy substitutes, tips for dining out, dairy-free shopping help, dairy-free product lists, dairy-free health information, product reviews, recipes, ebooks, and so much more.
Or, get a copy of Alisa's book, Go Dairy Free. This book is a really comprehensive, well-researched dairy-free bible. This lovely lady is a wealth of knowledge about dairy-free living and allergy-free foods. She's also a really talented recipe developer.
Give this vegan gluten-free pumpkin bread a go and you'll see what I mean. It's super moist and seriously yummy.
Check out Go Dairy Free.
THE BLENDAHOLIC SHOW TRAILER

THE BLENDAHOLIC SHOW TRAILER: Hi, my name is Tess and I'm a Blendaholic. Every Monday I share super easy recipes you can make in your blender! I'm blending up smoothies, cocktails, soups, appetizers, snacks, main meals, and desserts. There isn't anything I won't try in a blender, and all of the recipes are mind-blowingly delicious. So, dust off your blender, and tune in to The Blendaholic every Monday at 7AM PST to find your perfect blend. Find more easy healthy recipes at The Blender Girlhttps://www.theblendergirl.com/

Posted by The Blendaholic on Monday, January 22, 2018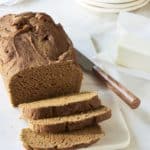 Vegan Gluten-Free Pumpkin Bread
This gluten-free vegan pumpkin bread from Alisa Fleming is so delicious it's hard to stop eating!
Total Time
1
hour
10
minutes
Instructions
Preheat your oven to 325ºF/160ºC.

Preheat your oven to 325ºF/160ºC.

Lightly grease and flour (I used a little brown rice flour) 4 mini-loaf tins.

Lightly grease and flour (I used a little brown rice flour) 4 mini-loaf tins.

In a medium-sized bowl, combine the flours, starches, xanthan, baking powder, baking soda, spices, and salt. Set aside.

In a medium-sized bowl, combine the flours, starches, xanthan, baking powder, baking soda, spices, and salt. Set aside.

In your stand mixer bowl, combine the sugar, pumpkin, oil, maple syrup, water, and vanilla and mix on a low speed until combined.

In your stand mixer bowl, combine the sugar, pumpkin, oil, maple syrup, water, and vanilla and mix on a low speed until combined.

Slowly add the flour mixture until all is just combined. (This happens quickly.)

Slowly add the flour mixture until all is just combined. (This happens quickly.)

Divide the batter between your prepared tins, smoothing out the tops with the back of a spoon or spatula, since it will be a little thick.

Divide the batter between your prepared tins, smoothing out the tops with the back of a spoon or spatula, since it will be a little thick.

Bake the bread for 45 to 55 minutes, or until firm to the touch. (The bread should pull slightly away from the pan when done, and will be lightly browned.)

Bake the bread for 45 to 55 minutes, or until firm to the touch. (The bread should pull slightly away from the pan when done, and will be lightly browned.)

Let the loaves cool for 10 minutes, before popping them out to cool completely on a wire rack. (Resist the urge to cut into these loaves while still hot. Like any bread, they will be a bit crumbly when hot, but firm up perfectly as they cool.)

Let the loaves cool for 10 minutes, before popping them out to cool completely on a wire rack. (Resist the urge to cut into these loaves while still hot. Like any bread, they will be a bit crumbly when hot, but firm up perfectly as they cool.)