This salty kale avocado smoothie tastes like liquid guacamole and is an alkaline avenger containing some of the top alkaline forming foods to bolster health.
Kale – 1 cup can be added to most smoothies without changing the flavor. Pair with tomato, avocado, coconut, chile, lime, lemon (juice and zest), and bell pepper in savory blends. Powerful phytonutrients in kale have antimicrobial and anti-cancer properties that are unleashed when the leaves are blended. Packed with calcium, iron, potassium, zinc, folate, fiber, and vitamins A, C, E, and K, this leafy legend boosts immunity, and promotes respiratory, heart, bone, and digestive health. Loaded with chlorophyll, kale is an alkalizing ace that combats inflammation and abnormal cell development.
Tomato – these red beauties neutralize acids, especially when eaten raw. Full of phytonutrients, beta-carotene, flavonoids, fiber, and vitamins A, C, E, and K, and potassium tomatoes provide antioxidant and anti-inflammatory support to the liver, kidneys, bones, blood, and heart, while purifying the blood, righting infections, flushing toxins from the liver and gallbladder, and regulating heart rate and blood pressure. Rich in lycopenes, tomatoes combat abnormal cell growth and regulate fat metabolism and cholesterol. Tomatoes are one of my go-to ingredients for gazpacho-style smoothies.
Avocado – is low in carbs and loaded up with fabulous fats that tame toxins, balance acids, hormones and blood sugar, and help metabolize fats and regulate cholesterol. These buttery babes also lubricate the skin, tissues, and joints; and energize and support the adrenals. With an arsenal of antioxidants— vitamins A, C, E, and K and glutathione, as well as protein, fiber, alkalizing chlorophyll, potassium, B vitamins, and anti-inflammatory agents, avocado is a detox diva, and helps thicken a smoothie and deliver a creamy texture.
Cucumber – These diuretic dynamos loaded up with mineral-rich water flush out the kidneys, liver, and colon, while nourishing the cells and skin. Loaded with alkaline mineral buffers, cukes also deliver antioxidant flavonoids, carotenoids, vitamins C and K, and manganese to combat oxidation and build healthy blood. I prefer to use English cucumbers or mini Persian or Lebanese varieties as their skins are thinner and less bitter. Cucumbers add a hydrating component to smoothies and help temper high-sugar blends.
Limes – Chemically acidic, but alkaline-forming once digested past the stomach, limes balance pH levels in the lower digestive tract, while ascorbic acid fights free radicals. Bursting with antioxidant vitamin C, limes act like antibiotics for sweet immunity. Alkaline minerals and B vitamins boost fat-metabolizing enzymes in the liver, flush toxins from the blood, calm inflammation, build collagen, maintain healthy mucus membranes, and block abnormal cell development. Low in sugar with a tangy punch, limes are great additions to smoothies lifting the pungency of leafy greens, green powders, and the earthiness of beets and other root veggies.
Garlic – A immunity angel loaded with sulfur compounds like allicin, garlic fights free radicals like a bull in a china shop. Rich in vitamins and minerals, and essential enzymes, garlic bolsters the detox power of the lymph, liver, and colon to tame toxins. With natural antibiotic and antiviral properties, this vampire slayer kills yeast, fungus, intestinal worms, heavy metals, plaque, and mucus build-up for digestive, respiratory, and cardiovascular health. Loaded up with iron, garlic helps to purify and build the blood, too. Add 1 clove of garlic to add crazy-amazing flavor to savory smoothies.
Celtic Sea Salt – High-quality unprocessed Celtic sea salt contains about 60 alkaline minerals to replenish electrolytes, support adrenal, immune, and thyroid function, enhance digestion, and assist detox. I always add a pinch of salt to all of my smoothies to bring out the natural flavor of fruits and veggies and temper the acidifying impact of fruits. In savory smoothies, it's essential.
Chile – The capsaicin found in peppers heats the body to boost metabolism, burn fat, and dial up detox. Loaded with antioxidants, chiles combat oxidation to boost immunity, as well. I use fresh green chiles, dried red pepper flakes, and cayenne pepper in smoothies for medicinal mojo as well as amazing back-end flavor. As heat varies, start small and add to taste.
Wheatgrass Powder – Rich in alkalizing chlorophyll and protein (about 85 percent by weight), full of vitamins, minerals, live enzymes, antioxidants, and anti-inflammatory agents, wheatgrass combats acids and flushes toxins for healthy blood and optimal cellular function. I boost smoothies with 1/2 teaspoon to 1 teaspoon of freeze-dried powder which has a mild flavor that goes unnoticed in most blends.
All of these ingredients come together with a splash of Bragg liquid aminos for a dimensional blend that takes you on the flavorful journey that tickles the taste buds while it massages your belly. Vampires beware!
Be bold and give this salty tomato kale avocado smoothie a go.
Find more delicious smoothie recipes in The Blender Girl Smoothies app.
*Probiotic Powder – I add 1/2 teaspoon of probiotic powder to all smoothies to replenish stores of healthy bacteria for immunity, digestion, detox, and to balance the acidic effects of high-sugar fruits and other sweeteners. The really potent probiotics require refrigeration. If you have capsules, break the shell and release the powder. Unsweetened probiotic-rich liquids like kefirs (water, coconut water, milk varieties) or kombucha make wonderful health-promoting additions to shakes, too.
*Celtic Sea Salt – I add a pinch (or more) of this alkalizing, mineral-rich salt to all smoothies to boost the natural flavor of fruits and veggies; temper the acidity of sweet fruits and sweeteners; stimulate the lymphatic system; replenish electrolytes; aid digestion; and help the body access energy. I do not recommend adding common table salt which is generally heated to extreme temperatures, iodized, bleached, processed, and refined. This salt does not have the same benefits. If you have a health condition that requires you to limit your sodium intake consult your doctor before adding salt to your smoothies.
THE BLENDAHOLIC SHOW TRAILER

THE BLENDAHOLIC SHOW TRAILER: Hi, my name is Tess and I'm a Blendaholic. Every Monday I share super easy recipes you can make in your blender! I'm blending up smoothies, cocktails, soups, appetizers, snacks, main meals, and desserts. There isn't anything I won't try in a blender, and all of the recipes are mind-blowingly delicious. So, dust off your blender, and tune in to The Blendaholic every Monday at 7AM PST to find your perfect blend. Find more easy healthy recipes at The Blender Girlhttps://www.theblendergirl.com/

Posted by The Blendaholic on Monday, January 22, 2018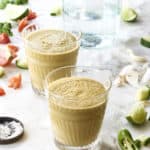 Salty Tomato Kale Avocado Smoothie
This vegan alkaline savory green smoothie from is loaded with nutrients and is like liquid guacamole.
Servings
2
16-ounce glasses
Ingredients
1/4

cup (60ml)

filtered water

2

cups (360g)

roughly chopped tomato

1

English cucumber,

roughly chopped

1

cup (25g)

curly kale leaves

1

medium

avocado,

pitted and peeled

2

limes,

peeled and quartered

1

clove

garlic

1 1/2

teaspoons

Celtic sea salt,

plus more to taste

1/4

teaspoon

Bragg liquid aminos

1

cup (125g)

ice cubes
Instructions
Throw the water, tomato, and cucumber into the blender first, followed by the rest of the ingredients, including any boosters. Blast on high for 30 to 60 seconds until smooth and creamy. Tweak salt to taste.