Vegan Eggnog
This raw vegan eggnog recipe is from Incredible Smoothies.
Check out Tracy's website. She has over 400 green smoothie recipes.
Tracy also shares her inspiring story of how she and her husband transitioned from the Standard American Diet (S.A.D.) to a mostly raw vegan diet. Tracy suffered from high cholesterol, frequent heartburn, chronic acne, and weight issues and now has abundant energy, a flat stomach and glowing skin!
With the help of daily green smoothies, raw dishes, and a healthy exercise routine, Tracy and her husband both lost about 30 pounds and are so much healthier.
They are now on a mission to help other people achieve optimum health with the power of green energy smoothies and raw foods.
There are step-by-step instructions on how to begin making green smoothies, and lots of posts about using various leafy greens. It's a fantastic resource for green smoothies.
Because it's the holidays, I didn't choose a green smoothie recipe, I wanted to share this raw vegan eggnog.
This raw vegan eggnog is gluten free, dairy free, egg free, soy free and refined sugar free. This recipe yields about 16 ounces, which is good for 2 standard glasses. But I don't think you will want to be sharing! I gobbled up the whole batch in minutes. If you're planning on serving this at a party, I would quadruple the batch!
I added more cinnamon to Tracy's original eggnog recipe. Start with her recipe, and add more to taste.
Do not miss making this vegan eggnog. It's amazing.
THE BLENDAHOLIC SHOW TRAILER

THE BLENDAHOLIC SHOW TRAILER: Hi, my name is Tess and I'm a Blendaholic. Every Monday I share super easy recipes you can make in your blender! I'm blending up smoothies, cocktails, soups, appetizers, snacks, main meals, and desserts. There isn't anything I won't try in a blender, and all of the recipes are mind-blowingly delicious. So, dust off your blender, and tune in to The Blendaholic every Monday at 7AM PST to find your perfect blend. Find more easy healthy recipes at The Blender Girlhttps://www.theblendergirl.com/

Posted by The Blendaholic on Monday, January 22, 2018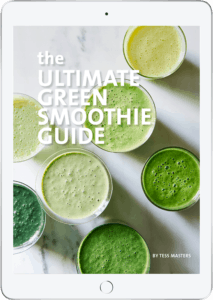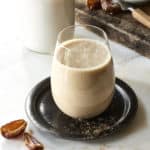 Raw Vegan Eggnog
This raw vegan eggnog is rich and creamy. You'll have a hard time sharing!
Instructions
Throw everything into your

blender

and blast on high for 30 to 60 seconds until smooth and creamy.