These garlic olive oil mashed potatoes with chives are absolutely incredible.
No self-respecting thanksgiving dinner is complete without a truckload of delicious creamy mashed potatoes. I absolutely love them! It is a special treat for me, as I don't eat potatoes on a daily, or even a weekly basis. Following a mostly alkaline vegan diet, and being susceptible to candida, I eat them sparingly.
When I do eat potatoes, I always eat red skinned potatoes, the only potatoes allowed on the Body Ecology Diet, an anti-candida immune boosting regime that successfully helped me rid myself of years of overgrowth of yeast. So, for those of you "B.E" folks this recipe is for you!
Instead of using tons of cream and butter, or even vegan butter spread like Earth Balance (which IS fantastic with potatoes by the way) I prefer using a really good quality cold pressed olive oil, which adds not only a delicious flavor, but tons of health fats. To this I add a little bit of vegetable broth for extra flavor. Then you can add in any spices, herbs, and natural flavorings you fancy.
Red-skinned potatoes can retain quite a bit of water. This is not desirable for a rich flavored mashed potato. If you drain and mash straight away, you can get a slushy, watery mashed potato which is not great. To prevent this, I like to drain the potatoes and stir-fry on a low heat to remove the water. Then I slowly add in the oil, garlic, and salt until I get the flavor and consistency I want.
I find the mixture slowly gets creamy without the need to use a potato masher, but you could always use your stand mixer with the paddle attachment if you prefer. Then I stir through the fresh chopped herbs at the very end before serving; I love chives and parsley. I never peel my potatoes either, there is so much goodness in the skin, and I love the rustic look and texture of the mashed skins.
These olive oil mashed potatoes are always a crowd pleaser, and were particularly popular at our Thanksgiving Potluck last weekend.
What's your favorite mashed potato blend?
THE BLENDAHOLIC SHOW TRAILER

THE BLENDAHOLIC SHOW TRAILER: Hi, my name is Tess and I'm a Blendaholic. Every Monday I share super easy recipes you can make in your blender! I'm blending up smoothies, cocktails, soups, appetizers, snacks, main meals, and desserts. There isn't anything I won't try in a blender, and all of the recipes are mind-blowingly delicious. So, dust off your blender, and tune in to The Blendaholic every Monday at 7AM PST to find your perfect blend. Find more easy healthy recipes at The Blender Girlhttps://www.theblendergirl.com/

Posted by The Blendaholic on Monday, January 22, 2018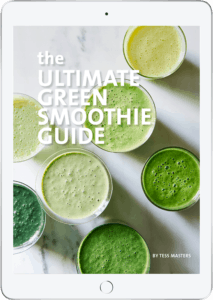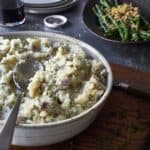 Olive Oil Mashed Potatoes
These vegan dairy free olive oil mashed potatoes rich, creamy. easy, and delicious.
Ingredients
2

lb (1kg)

unpeeled and diced red-skinned potatoes

3/4

cup 

extra-virgin olive oil,

plus more to taste

2

tablespoons

minced garlic,

plus more to taste

3/4

cup 

vegetable broth,

plus more to taste

2

tablespoons

finely chopped flat-leaf parsley,

plus more to taste

2

tablespoons

finely chopped chives,

plus more to taste

1

tablespoon 

Celtic sea salt,

plus more to taste

1/4

teaspoon

freshly ground black pepper,

plus more to taste
Instructions
Place the chopped potatoes in a large saucepan, cover with water, and bring to a boil. Reduce the heat to medium-high, and simmer for 8 to 10 minutes until tender. Drain well. 

Add 1 tablespoon of the olive oil to the saucepan, and over medium heat, sauté the garlic for 2 to 3 minutes until just starting to brown. Add the drained potatoes and sauté for 2 to 3 minutes until the excess water has been absorbed. 

Transfer the potatoes and garlic into the bowl of your stand mixer, and with the paddle attachment mix on high gradually add the olive oil and broth until mixed well, and you've reached your desired consistency. Season with the salt and pepper. Tweak olive oil, broth, salt and pepper to taste. (You could also mash the potatoes by hand with a potato masher or ricer.) 

Stir through the parsley and chives, and add more to taste.