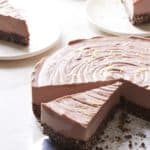 Raw Lemon Cranberry Cheesecake
This gorgeous lemon cranberry cheesecake satisfies every tart craving I have.
Instructions
To make the crust, place the almonds and dates into a food processor fitted with the s blade until well combined and formed into a ball. (You may need to add a few more dates.)

Grease a 9-inch springform cake tin with coconut oil, and press the crust into the bottom of the pan. Set aside.

To make the filling, place all of the filling ingredients into the blender, and blast on high for about 1 minute until smooth and creamy.

Pour the filling into the tin, and gently wiggle so that the cake is even. 

Cover this tin with aluminium foil, and place in the freezer for 6 to 8 hours. Then transfer to the fridge, and leave it there until you're ready to serve. 

To serve, gently remove cake from the tin, cut into slices, and serve with

raw cashew cream

and lemon zest.

*Note: This cake will melt if left out at room temperature due to the coconut oil.