Have you tried mixing green juice and almond milk? It is incredible.
I drink this alkaline forming green almond milk regularly for an injection of healthy fats, chlorophyll, and alkaline minerals after having it at the pH Miracle ranch.
Before you screw your nose up, let me tell you that this blend of spinach, cucumber, and celery juice and unsweetened homemade almond milk tastes like a mint milkshake. It is absolutely delicious. Everybody I serve this to (raw foodies, vegans, omnivores, junk food addicts, and everything in between) rejoices at the delicious flavor, and exclaims, "Oh! I could drink that!"
Celery serves up healthy sodium, cucumber contributes alkalizing salts and hydrating water, and the spinach is loaded with chlorophyll and contains plant-based protein. The almonds add more protein and healthy fats which make this drink a great source of satiating energy.
Give green juice and almond milk blend a go, and tell me what you think!
THE BLENDAHOLIC SHOW TRAILER

THE BLENDAHOLIC SHOW TRAILER: Hi, my name is Tess and I'm a Blendaholic. Every Monday I share super easy recipes you can make in your blender! I'm blending up smoothies, cocktails, soups, appetizers, snacks, main meals, and desserts. There isn't anything I won't try in a blender, and all of the recipes are mind-blowingly delicious. So, dust off your blender, and tune in to The Blendaholic every Monday at 7AM PST to find your perfect blend. Find more easy healthy recipes at The Blender Girlhttps://www.theblendergirl.com/

Posted by The Blendaholic on Monday, January 22, 2018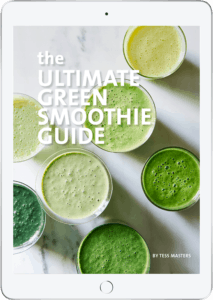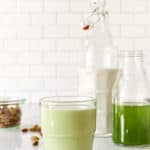 Green Juice and Almond Milk
This alkaline green almond milk is a blend of green juice and almond milk, and is loaded with nutrients for immunity.
Ingredients
almond milk (makes 2 1/2 cups):
green juice (makes 2 1/2 cups):
2

large English cucumbers

2

large ribs

celery

3

large handfuls

baby spinach
Instructions
To make the almond milk, soak the almonds. Place the nuts in a glass or ceramic bowl or large glass jar, and cover with filtered water, and 1 teaspoon Celtic sea salt and splash of fresh lemon juice or apple cider vinegar. Cover the container with a breathable kitchen towel, and allow to soak at room temperature for 12 hours. (For more information read here.)

Drain, and discard the soaking liquid (do not use this to make the milk). Rinse the almonds several times to remove the anti-nutrients and enzyme inhibitors. 

Throw the rinsed almonds, water, and salt in your blender, and blast on high for 30 to 60 seconds, until the nuts are completely pulverized. 

To strain, place a nut milk bag or knee-high piece of sheer nylon hosiery over the opening of a glass bowl, jar or jug. Pour the milk into the bag, twisting the bag closed, and gently squeezing it to pass the liquid through. Set aside. 

To make the green juice, push the cucumber, celery, and spinach through your juicer, then strain with a fine mesh strainer. 

To make the green milk, mix the green juice and almond milk together. 

Store the green milk a sealed container in the fridge. The milk will keep for 2 to 3 days.