Carrot Pecan Milk
---
March 30, 2014
This carrot pecan milk is crazy-amazing, and tastes like dessert in a glass. This homemade nut milk is raw, vegan, gluten-free, and paleo-friendly.
This carrot pecan milk is crazy-amazing, and tastes like dessert in a glass. This homemade nut milk is raw, vegan, gluten-free, and paleo-friendly.
I got the recipe for this crazy-amazing carrot pecan milk from the Deliciously Holistic cookbook by Shelley Alexander.
In the headnote for this carrot pecan milk Shelley says, "Carrots are chock full of beta-carotene and fiber. Pecans contain vitamin B and E, magnesium, iron, manganese, copper, molybdenum, and potassium. Pecans also have a large amount of plant sterols which are good for regulating cholesterol. Combining the sweet carrots with buttery pecans provides your body with healthy fats and key nutrients that will make you feel energized and strong."
I love this carrot pecan milk because it shows how you can make a simple nut milk more interesting and nutritious by blending in vegetables. Many of you have written to me saying how much you love the green alkaline almond milk, and this carrot pecan milk is just as delicious.
Shelley has a ton of super easy, nutrient-dense recipes that help nourish and restore the body's own natural healing abilities. She and her company offer cooking classes, health seminars, one-on-one consultations, radiance wellness parties, and holistic supper club events.
Shelley was lucky enough to grow up eating fresh fruits and vegetables in her family garden and at the local farmer's markets. After spending her youth cooking with her mother, she trained at The Los Angeles Culinary Institute to turn her passion for healthy living into a career. She is a certified healing foods specialist, and holistic chef, and has worked in the restaurant and catering industry as an executive chef for top corporations and charities.
In her book, Deliciously Holistic, Shelley shares healthy living tips such as: the top reasons to buy seasonal, local, and organic; definitions for commonly used whole foods definitions; her holistic shopping guide; tips for quick and easy food preparation; healthy pantry staples; recommended online resources; her favorite flavorings and sweeteners; essential kitchen equipment; healthy prepared food options and recommended superfood brands; healthy energy drinks; tips for improving your digestive health; soaking and sprouting tips, and seasonal menus to get your started on your journey.
She then shares her quick easy pantry staples such as: spiced maple syrup, cultured vegetables, flavored coconut butters, salad dressings, salsas, and spreads, flavored nut milks, exotic kefirs, healing tonics, awesome smoothies, and yogurts.
I love her hearty breakfast options: pear and pomegranate nut bowl, cranberry quinoa cereal, chai pumpkin oatmeal. Her hearty soups like pumpkin hazelnut chai soup and raw watermelon and jicama soup are amazing. She also shares fabulous easy salad dressings such as cherry almond, clementine cassis, meyer lemon champagne vinaigrette, and goji berry kombucha dressing and the exotic salads to go with them.
There are some fabulous easy dinners too: I love the portobello mushroom and grilled onion burgers and carrot walnut cream fettucini. Then, there's the delectable desserts: pina colada ice cream float with kefir and acai berry cranberry tea sherbet.
This is not a vegan cookbook. There are dishes containing meat, dairy, and eggs, but, also a ton of raw and vegan options. There's something for everybody. For me, the stars of the book are the tonics, elixirs, and nut milks.
This carrot pecan milk tastes like dessert, and is really comforting in the cold weather. It's a fantastic healthy holiday option.
THE BLENDAHOLIC SHOW TRAILER

THE BLENDAHOLIC SHOW TRAILER: Hi, my name is Tess and I'm a Blendaholic. Every Monday I share super easy recipes you can make in your blender! I'm blending up smoothies, cocktails, soups, appetizers, snacks, main meals, and desserts. There isn't anything I won't try in a blender, and all of the recipes are mind-blowingly delicious. So, dust off your blender, and tune in to The Blendaholic every Monday at 7AM PST to find your perfect blend. Find more easy healthy recipes at The Blender Girlhttps://www.theblendergirl.com/

Posted by The Blendaholic on Monday, January 22, 2018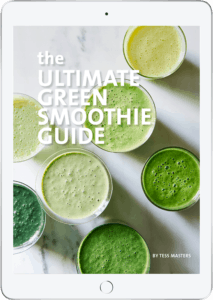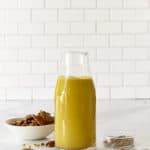 Carrot Pecan Milk
This carrot pecan milk is crazy-amazing, and tastes like dessert in a glass. This homemade nut milk is raw, vegan, gluten-free, and paleo-friendly.

Instructions
Throw all of the ingredients into your high-speed blender, and blast on high for 30 to 60 seconds until smooth and creamy. Taste and tweak sweetener to your preference.

Strain with a nut milk bag or knee-high piece of sheer nylon hosiery to remove the pulp. 

The milk will keep in a sealed container in the fridge for 2 to 3 days.