Macadamia Milk
---
August 21, 2009
Homemade raw macadamia milk is easy to make, is rich, creamy, and contains all of the nutrients and fiber of the whole nut.
THE BLENDAHOLIC SHOW TRAILER

THE BLENDAHOLIC SHOW TRAILER: Hi, my name is Tess and I'm a Blendaholic. Every Monday I share super easy recipes you can make in your blender! I'm blending up smoothies, cocktails, soups, appetizers, snacks, main meals, and desserts. There isn't anything I won't try in a blender, and all of the recipes are mind-blowingly delicious. So, dust off your blender, and tune in to The Blendaholic every Monday at 7AM PST to find your perfect blend. Find more easy healthy recipes at The Blender Girlhttps://www.theblendergirl.com/

Posted by The Blendaholic on Monday, January 22, 2018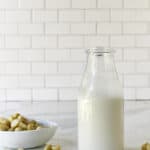 Macadamia Milk
Homemade macadamia milk is easy to make, is rich, creamy, and decadent, and can be used in smoothies and other recipes.
Ingredients
unsweetened macadamia milk:
sweetened milk (unsweetened milk, plus below):
chocolate milk (sweetened milk, plus below):
cinnamon milk (sweetened milk, plus below):
strawberry milk (sweetened milk, plus below):
3

cups

fresh strawberries,

plus more to taste
Instructions
To soak the macadamias, place the nuts in a glass or ceramic bowl or large glass jar, and cover with filtered water. Add 1 teaspoon Celtic sea salt and splash of fresh lemon juice or apple cider vinegar, cover the container with a breathable kitchen towel, and allow to soak at room temperature for 2 hours. (For more information on soaking read here.)

Drain, and discard the soaking liquid (do not use this to make the milk). Rinse the macadamias several times to remove the anti-nutrients and enzyme inhibitors.

Throw the rinsed macadamias, water, and salt in your blender, with any additions (if using), and blast on high for about 60 seconds, until smooth and creamy.

Store the milk in a sealed container in the fridge. Activated macadamia milk (made with soaked macadamias) will keep for 2 to 3 days in a very cold fridge. Unsoaked macadamia milk will keep for about 5 days.