Vanilla Sesame Milk
---
August 6, 2017
This vanilla sesame milk is loaded with calcium and is rich, creamy, and super tasty. This recipe is raw, vegan, gluten-free, and paleo-friendly.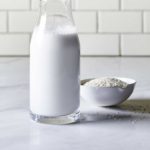 Vanilla Sesame Milk
This delicious vanilla sesame milk is raw, vegan, gluten-free, and paleo-friendly. It is rich, creamy, and loaded with calcium.

Instructions
Throw the sesame and water into your blender, and blast on high for 30 to 60 seconds, until the seeds are completely pulverized. 

To strain, place a nut milk bag or knee-high piece of sheer nylon hosiery over the opening of a glass bowl, jar or jug. Pour the milk into the bag, twisting the bag closed, and gently squeezing it to pass the liquid through. 

Rinse your blender container, and pour the strained milk back in. Add the maple syrup, vanilla, and salt, and process on low for just a few seconds to combine. 

Store the milk in a sealed container in the fridge. Sesame milk will keep for about 3 days in a very cold fridge.