This vegan vanilla ice cream is gluten-free, dairy-free, grain-free, and paleo-friendly.
I crack a bunch of young thai coconuts every week, and freeze the water and meat for smoothies and desserts. One of my favorite ways to use the meat is as a base for ice cream.
I used to crack coconuts with a meat cleaver. But, even after cracking hundreds of coconuts over the past few decades, I was still afraid I was going to chop my hand off, and it was so messy. Since I got a Coco Jack tool, things have gotten so much easier. This is, hands down, the best way to crack open a coconut.
The combo of coconut meat and cashews yields an ice cream with a delightful creaminess. Even the most devout dairy devotee will never know the difference.
THE BLENDAHOLIC SHOW TRAILER

THE BLENDAHOLIC SHOW TRAILER: Hi, my name is Tess and I'm a Blendaholic. Every Monday I share super easy recipes you can make in your blender! I'm blending up smoothies, cocktails, soups, appetizers, snacks, main meals, and desserts. There isn't anything I won't try in a blender, and all of the recipes are mind-blowingly delicious. So, dust off your blender, and tune in to The Blendaholic every Monday at 7AM PST to find your perfect blend. Find more easy healthy recipes at The Blender Girlhttps://www.theblendergirl.com/

Posted by The Blendaholic on Monday, January 22, 2018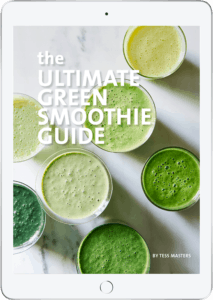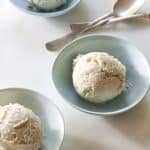 Vegan Vanilla Ice Cream
This raw vegan dairy free vanilla ice cream made out of coconut meat is rich, creamy, and delicious.
Instructions
Drain the soaked cashews, rinse thoroughly, and discard the soaking liquid. 

Throw the drained cashews into the blender with the coconut meat, coconut milk, maple syrup, vanilla, and salt, and blast on high for 30 to 60 seconds until smooth and creamy. Tweak maple syrup and vanilla to taste. 

Chill in the fridge for a couple of hours until cold, and then churn in an ice cream maker according to the manufacturer's instructions. 

Transfer to a steel loaf pan or sealed container, and freeze for about 8 hours until firm.