Walnut Milk
---
January 28, 2018
Have you tried homemade walnut milk? It is so delicious, loaded with nutrients, and is vegan (dairy -free), gluten-free, and paleo friendly.
Do you want to know how to make the best walnut milk? This recipe is super easy, really delicious, and is vegan (dairy -free), gluten-free, and paleo friendly. Walnut milk is so incredibly delicious, and I prefer it to almond milk. It is also alkaline-forming, loaded with omega fatty acids, and fantastic on cereal. I like to drink it plain over ice. Yum!
Walnut milk has a delightful nutty flavor without the bitterness of whole whole walnuts, and is loaded with vitamins and minerals. Walnut milk is also great for our brains, and so rich and creamy. Homemade almond milk is ubiquitous and very popular, and I do make it a lot. But, this raw walnut milk features heavily in the nut milk rotation in our house. I make a different plant based milk every couple of days to mix things up for nutrition and flavor diversity. But, walnut milk is one of my faves.
Walnuts deliver brilliant bang for buck in the food world. They are health-promoting anti-inflammatory warriors. Highest of all nuts in omega-3s, amped up with antioxidant phytonutrients, rich in monounsaturated fats, and containing loads of L-arginine, this heart-healthy hero combats free radical damage, promotes cell integrity, regulates blood pressure and cholesterol, neutralizes acids, and repairs collagen for sensational skin. Walnuts are also one of the few food sources of melatonin, so they calm the nervous system and aid sleep. And, there's a reason walnuts look like little brains. Rich stores of vitamin E and folate team up with the arsenal of omega fatty acids to delivers neuroprotective properties, making walnuts brilliant brain food.
I'm predicting that we're going to see walnut milk get more and more popular. And, I'm not the only one who rates it high on the list of priorities. Elmhurst has added an incredible commercial walnut milk to their range that is absolutely delicious. Their product is really pure, too. (I love how the commercial nut milks are getting more pure and simple.)
But, with homemade walnut milk, you can control the quality and integrity of the finished product even more – the freshness of the nuts, the nut to water ratio, the sugar levels, and the texture. Furthermore, fresh raw walnut milk contains live enzymes, has not been pasteurized, and contains no additives or preservatives.
You can make simple unsweetened walnut milk by blending raw soaked walnuts and water. Unsweetened walnut milk is my preference, as it's more alkalizine-forming. For the best results, choose fresh raw walnuts, and soak them to neutralize enzyme inhibitors, activate their full nutrient potential, and soften them so they're easy to pulverize. You can find more information on soaking here.
Whole, unstrained walnut milk is a full-fiber experience, and contains the full nutrients of the whole nut. For a smoother, more commercial-style milk that is great for recipes, strain the milk using a nut milk bag (purchase these online or from health food stores) or knee-high piece of sheer nylon hosiery. Wash the bag thoroughly and dry fully to reuse.
If you want to sweeten and flavor the milk for drinking, or to pour over cereal, I love adding a teaspoon of vanilla extract and some pitted dates or pure maple syrup. Also, try gently warming some walnut milk in your high-speed blender or on a gentle low heat on stove top. Because of the natural melatonin, warm walnut milk makes an incredibly anti-inflammatory sleep tonic to drink before bed.
Leave a comment below and let me know what you think!
THE BLENDAHOLIC SHOW TRAILER

THE BLENDAHOLIC SHOW TRAILER: Hi, my name is Tess and I'm a Blendaholic. Every Monday I share super easy recipes you can make in your blender! I'm blending up smoothies, cocktails, soups, appetizers, snacks, main meals, and desserts. There isn't anything I won't try in a blender, and all of the recipes are mind-blowingly delicious. So, dust off your blender, and tune in to The Blendaholic every Monday at 7AM PST to find your perfect blend. Find more easy healthy recipes at The Blender Girlhttps://www.theblendergirl.com/

Posted by The Blendaholic on Monday, January 22, 2018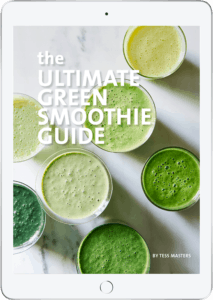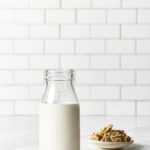 Walnut Milk
This walnut milk is super easy, is rich and creamy, incredibly delicious, and is vegan (dairy -free), gluten-free, and paleo friendly.

Ingredients
sweetened milk (unsweetened milk, plus below):
Instructions
To soak the walnuts, place the nuts in a glass or ceramic bowl or large glass jar, and cover with filtered water. Add 1/4 teaspoon Celtic sea salt and splash of fresh lemon juice or apple cider vinegar, cover the container with a breathable kitchen towel, and allow to soak at room temperature for 12 hours. (For more information on soaking read here.)

Drain, and discard the soaking liquid (do not use this to make the milk). Rinse the walnuts several times to remove the anti-nutrients and enzyme inhibitors. 

Throw the rinsed walnuts, water, and salt in your blender, and blast on high for 30 to 60 seconds, until the nuts are completely pulverized. Use whole milk to maximize nutrition. Or strain for a smoother, more commercial-style milk for use in recipes.

To strain, place a nut milk bag or knee-high piece of sheer nylon hosiery over the opening of a glass bowl, jar or jug. Pour the milk into the bag, twisting the bag closed, and gently squeezing it to pass the liquid through. Empty the walnut pulp aside. You can dehydrate this for use in smoothies or to make crusts. Or make this quick easy body scrub. 

Rinse your blender container, and pour the strained milk back in. Add the vanilla, sweetener, and lecithin (if using), and blast again, until smooth and creamy. 

Store the milk in a sealed container in the fridge. Activated walnut milk (made with soaked walnuts) will keep for 2 to 3 days in a very cold fridge. Unsoaked walnut milk will keep for about 5 days.