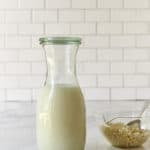 Homemade Brown Rice Milk
Homemade brown rice milk is easy to make with cooked brown rice and water. Flavor to your preference.
Ingredients
sweetened milk (unsweetened milk, plus below):
chocolate milk (sweetened milk, plus below):
cinnamon milk (sweetened milk, plus below):
strawberry milk (sweetened milk, plus below):
3

cups

fresh strawberries,

plus more to taste
Instructions
Throw the cooked brown rice, water, and salt in your blender, with any additions (if using), and blast on high for about 60 seconds, until smooth and creamy. Use whole milk to maximize nutrition. Or strain for a smoother, more commercial-style milk for use in recipes.

To strain, place a nut milk bag or knee-high piece of sheer nylon hosiery over the opening of a glass bowl, jar or jug. Pour the milk into the bag, twisting the bag closed, and gently squeezing it to pass the liquid through. 

Rinse your blender container, and pour the strained milk back in. Add the sweetener and any flavorings, and blast again, until smooth and creamy. 

Store the milk in a sealed container in the fridge. Activated brown milk (made with soaked rice) will keep for 2 to 3 days in a very cold fridge. Unsoaked rice milk will keep for about 5 days.