This homemade brown rice milk is really easy to make and so much better than the store-bought variety.
I'm not a fan of commercial rice milk, as it's watery and lacks flavor. If you're going for rice milk, homemade milk made with soaked brown rice is the better option. Rice milk is not my first port of call. I prefer to use more nutrient-dense plant milks like almond milk or hemp milk. But for those people dealing with food allergies, rice milk is a winner.
The Chinese have given us many culinary gifts, and rice may be the greatest. The Chinese have been cultivating rice for about 9,000 years, and today, there are about 8,000 different varieties of rice. Rice is one of the most vital food staples in the world, and accounts for about half of the caloric intake of almost half the world's population!
You can make rice milk with any variety of rice. I use brown rice for the neatest nutrition. For the best results, soak your rice to neutralize enzyme inhibitors and activate the full nutrient potential. You can find more information about soaking here.
Whole, unstrained rice milk contains the most nutrients. But, rice milk is more user-friendly strained. Use a nut milk bag (purchase these online or from health food stores) or knee-high piece of sheer nylon hosiery. Wash the bag thoroughly and dry fully to reuse.
Use unsweetened plain rice milk in recipes. For use on cereals or as a beverage, sweeten and flavor to taste.
THE BLENDAHOLIC SHOW TRAILER

THE BLENDAHOLIC SHOW TRAILER: Hi, my name is Tess and I'm a Blendaholic. Every Monday I share super easy recipes you can make in your blender! I'm blending up smoothies, cocktails, soups, appetizers, snacks, main meals, and desserts. There isn't anything I won't try in a blender, and all of the recipes are mind-blowingly delicious. So, dust off your blender, and tune in to The Blendaholic every Monday at 7AM PST to find your perfect blend. Find more easy healthy recipes at The Blender Girlhttps://www.theblendergirl.com/

Posted by The Blendaholic on Monday, January 22, 2018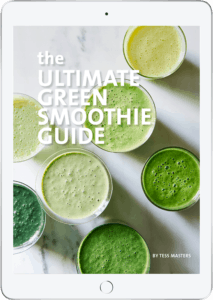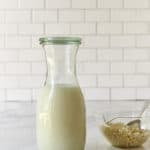 Homemade Brown Rice Milk
Homemade brown rice milk is easy to make with cooked brown rice and water. Flavor to your preference.
Ingredients
sweetened milk (unsweetened milk, plus below):
chocolate milk (sweetened milk, plus below):
cinnamon milk (sweetened milk, plus below):
strawberry milk (sweetened milk, plus below):
3

cups

fresh strawberries,

plus more to taste
Instructions
Throw the cooked brown rice, water, and salt in your blender, with any additions (if using), and blast on high for about 60 seconds, until smooth and creamy. Use whole milk to maximize nutrition. Or strain for a smoother, more commercial-style milk for use in recipes.

To strain, place a nut milk bag or knee-high piece of sheer nylon hosiery over the opening of a glass bowl, jar or jug. Pour the milk into the bag, twisting the bag closed, and gently squeezing it to pass the liquid through. 

Rinse your blender container, and pour the strained milk back in. Add the sweetener and any flavorings, and blast again, until smooth and creamy. 

Store the milk in a sealed container in the fridge. Activated brown milk (made with soaked rice) will keep for 2 to 3 days in a very cold fridge. Unsoaked rice milk will keep for about 5 days.