The Best Vegan Hot Chocolate
---
December 5, 2018
Make this incredible creamy vegan hot chocolate in your high-speed blender in less than 5 minutes. If you're using a conventional blender, gently warm on the stove top.
HOT CHOCOLATE

You can make the most amazing HOT CHOCOLATE in your KitchenAid high-speed blender. The blender not only heats the drink, it also froths the milk! Homemade almond milk gets really rich and creamy. But, you can use commercial almond, cashew, or coconut milk as well. GET THE FULL PRINTED RECIPE:https://www.theblendergirl.com/recipe/blender-vegan-hot-chocolate/

Posted by The Blendaholic on Wednesday, December 5, 2018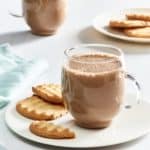 Vegan Blender Hot Chocolate
You can make easy vegan hot chocolate in your high-speed blender that is so rich and creamy, you'd never know it was dairy-free, gluten-free, and paleo-friendly.

Instructions
Throw all of the ingredients (including any optional boosters) into your

KitchenAid® Pro Line® blender

. Set the blender to the Adapti-Blend™ soup program. Blend until the machine turns itself off. Alternatively, throw in your high-speed blender for about 5 minutes, starting on speed 1 and gradually increasing to speed 10 until hot.
Recipe Notes
*If you don't have a high-speed blender, blast on high for about 60 seconds in your conventional blender until smooth. Then, transfer the mixture to a saucepan, and gently warm on low until hot. 
**Read here for soaking instructions for the cashews
***If you don't want to use cashews, substitute 2 cups of unsweetened almond milk for the 2 cups water and 1/2 cup cashews. 
Photo by Trent Lanz; styling by Alicia Buszczak