The Best Vegan Hot Chocolate
---
December 5, 2018
Make this incredible creamy vegan hot chocolate in your high-speed blender in less than 5 minutes. If you're using a conventional blender, gently warm on the stove top.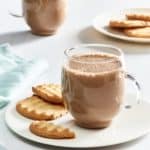 Vegan Blender Hot Chocolate
You can make easy vegan hot chocolate in your high-speed blender that is so rich and creamy, you'd never know it was dairy-free, gluten-free, and paleo-friendly.

Instructions
Throw all of the ingredients (including any optional boosters) into your

KitchenAid® Pro Line® blender

. Set the blender to the Adapti-Blend™ soup program. Blend until the machine turns itself off. Alternatively, throw in your high-speed blender for about 5 minutes, starting on speed 1 and gradually increasing to speed 10 until hot.
Recipe Notes
*If you don't have a high-speed blender, blast on high for about 60 seconds in your conventional blender until smooth. Then, transfer the mixture to a saucepan, and gently warm on low until hot. 
**Read here for soaking instructions for the cashews
***If you don't want to use cashews, substitute 2 cups of unsweetened almond milk for the 2 cups water and 1/2 cup cashews. 
****Substitute the dates for 3 tablespoons pure maple syrup, plus more to taste.
*****For sugar-free, substitute the dates for 2 to 3 tablespoons Lakanto. 
Photo by Trent Lanz; styling by Alicia Buszczak