Vegan Pumpkin Spice Latte
---
October 17, 2018
This incredible vegan pumpkin spice latte has an epic holiday flavor for Thanksgiving or Christmas. This recipe is dairy-free, gluten-free, and paleo-friendly. Just throw everything into your high-speed blender.
Incredible Pumpkin Spice Latte Recipe
Coffee lovers: this is for you! This homemade pumpkin spice latte is absolutely incredible, and will satisfy your javaholic fix this fall.
I have been making this incredible pumpkin spice latte every day this month. Oh….it is just so good. Do not miss making this one. This latte is super quick and easy to make, and has a mind-blowing flavor that will make you weak at the knees.
The Starbucks pumpkin spice latte is always really popular at this time of year. But, it is loaded with refined sugar (from the pumpkin spice syrup and simple syrup) and is not dairy-free with the milk and whipped cream.
This vegan recipe is gluten-free, dairy-free, and paleo-friendly, is healthier, and tastes so much better than the pumpkin spice latte you will line up for at Starbucks!
In my quest to create the most incredible dairy-free pumpkin spice latte, I drove around L.A and tried the various coconut lattes on offer at some well known coffee chains. Unfortunately, they were sickly sweet and tastes like chemicals.
This vegan pumpkin spice latte recipe has a lovely balanced flavor of coffee and pumpkin, just the right amount of sweetness (add maple syrup to taste), and a beautiful warming blend of holiday spices. But, the thing I love the most about this latte is that it gets creamier the longer it blends!
How To Make A Homemade Pumpkin Spice Latte
A good homemade latte has to be super rich and creamy. When you're not using dairy milk and cream, the best way to get a super creamy texture that will froth for your latte and not separate is to use raw cashews.
Any self-respecting pumpkin latte needs to be made with really good espresso coffee, mashed canned pumpkin, and, of course, an amazing blend of pumpkin pie spices.
Here are the ingredients I'm using in this recipe:
Key Pumpkin Spice Latte Ingredients
espresso (the stronger the better)
unsweetened canned mashed pumpkin (buy extras now so you make this latte throughout the year)
pumpkin pie spice (see notes for homemade blend)
minced fresh ginger (this adds an extra zing)
cashews and water (for the cream)
vanilla extract (a dessert latte just isn't the same without it)
pure maple syrup (to sweeten and to add to the holiday flavor)
Pinch of salt (to bring out the flavors)
If you don't have a commercial pumpkin pie spice mix or live out of North America, this homemade pumpkin pie spice recipe works great in this recipe.
Use Your Blender To Make A Homemade Pumpkin Spice Latte
Yes! The quickest and easiest way to make a homemade pumpkin spice latte is to use your high-speed blender.
Just throw all of the ingredients into the blender, and let the machine do all of the work for you.
Your blender will get the mixture really creamy, froth the milk, and heat the latte to a piping hot temperature all in one step.
There is no need to stand at a coffee machine to foam the milk separately.
I use my KitchenAid® Nespresso® machine to make the strong coffee, and then use my KitchenAid® Pro Line® Series blender to make the latte.
The KitchenAid® high-speed blender is now the most powerful blender, and it pulverizes the cashews and water into a rich creamy milk for the most incredible creamy texture.
I've got the upgraded model with the insulated thermal control jar. This dual-wall jar heats ingredients faster than any other blender, and keeps the latte hotter for longer. The insulated container works in much the same way as an insulated to-go cup. So, I love using this jar to make hot drinks and soups. I also love the reinforced lid that creates a really firm seal, so you don't have to worry about the heat popping the lid off which can happen with other high-speed blenders. A lot of the other lids are malleable and warp over time (and especially with a few runs in the dishwasher), and the KitchenAid lid doesn't.
If you've working with the base model Pro Line blender or the High Performance Series blender with the single-wall container, these machines will still heat the latte really well. It will just take a bit longer. If you have another brand of high-speed blender, blend until your latte until it is steaming.
For those of you who don't have a blender that heats ingredients, blend the latte for 30 to 60 seconds until smooth and creamy, then transfer the mixture to a small saucepan, and warm it over medium-low heat for 1 to 2 minutes until piping hot.
Whatever blender you have, do not miss making this blended pumpkin spice latte recipe. It is epic, and the perfect way to get a taste of the holidays this season.
*I am a paid ambassador for KitchenAid blenders. But, my opinions are my own.
Looking for other hot drinks made in a high-speed blender?
Matcha Latte
Beet Latte
Hot Chocolate
Please let me know what you think of this recipe in the comments!
Your feedback is really important to me, and it helps me decide which recipes to post next for you.
PUMPKIN SPICE LATTE

This PUMPKIN SPICE LATTE is sooooo amazing. Heat the latte in your high-speed blender or blend and transfer to the stove top to heat. GET THE FULL PRINTED RECIPE:https://www.theblendergirl.com/recipe/vegan-pumpkin-spice-latte/

Posted by The Blendaholic on Friday, September 7, 2018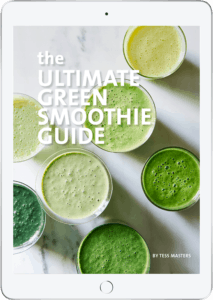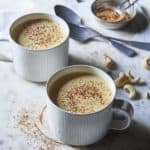 Vegan Pumpkin Spice Latte
This delicious vegan pumpkin spice latte is gluten-free, dairy-free, and paleo-friendly. Use your high-speed blender to heat it or transfer to the stove.

Instructions
Throw all of the ingredients into your KitchenAid® Pro Line® Series blender, and blast on high for 3 to 5 minutes until piping hot.

*If using a conventional blender, blast on high for 30 to 60 seconds until smooth and creamy. Then, transfer to a small saucepan, and warm on medium-low heat for about 1 to 2 minutes until piping hot.