Vegan Pumpkin Spice Latte
---
October 17, 2018
This incredible vegan pumpkin spice latte has an epic holiday flavor for Thanksgiving or Christmas. This recipe is dairy-free, gluten-free, and paleo-friendly. Just throw everything into your high-speed blender.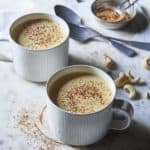 Vegan Pumpkin Spice Latte
This delicious vegan pumpkin spice latte is gluten-free, dairy-free, and paleo-friendly. Use your high-speed blender to heat it or transfer to the stove.

Instructions
Throw all of the ingredients into your KitchenAid® Pro Line® Series blender, and blast on high for 3 to 5 minutes until piping hot.

*If using a conventional blender, blast on high for 30 to 60 seconds until smooth and creamy. Then, transfer to a small saucepan, and warm on medium-low heat for about 1 to 2 minutes until piping hot.