Vegan White Russian MilkShake
---
December 6, 2018
This White Russian milkshake is rich, creamy, and decadent, and is a fantastic festive vegan and paleo-friendly holiday cocktail.
White Russian MilkShake
This creamy White Russian milkshake cocktail is sensational. This White Russian shake is a fabulous substitute for eggnog during the holidays, or a warming treat with an edge. The frozen banana doesn't alter the flavor, but adds a decadent creaminess and sweetness. The optional cinnamon spices things up a tad, and the cauliflower may make you feel a tad less cheeky.
I love this White Russian cocktail, and it is one of my go-to holiday drinks. It has a nice alcohol flavor that isn't overpowering, and tastes like dessert. I make double and tripe batches of it and serve it like eggnog at holiday parties. People love it.
How To Make A White Russian
You make a traditional White Russian cocktail by mixing:
1 Part Kahlua
1 Part Vodka (or Whiskey for a variation)
1 Part Heavy Cream
To make a classic White Russian cocktail you fill a glass with ice cubes and pour the Kahlua into the glass, then the vodka, and then the cream over the back of a spoon to get the pretty layered effect that you see in fancy bars.
Some recipes call for:
2 ounces Vodka (2 parts)
1 ounce Kahlua (1 part)
1/2 ounce or a splash of Heavy Cream (1/2 part)
For a traditional low calorie White Russian cocktail: Substitute skim milk or almond milk for the cream.
For a traditional vegan White Russian: Kahlua and vodka is vegan; use cashew cream in place of cream.
For a gluten-free White Russian: Use Tito's Vodka.
For a paleo-friendly White Russian: Use Tito's Vodka and cashew cream.
How To Make A Vegan White Russian Milkshake
For a richer, even more decadent White Russian, I prefer making a White Russian Milkshake.
I'm using Tito's Vodka and Kahlua like a traditional White Russian.
To that, I'm adding espresso and some vanilla extract for a deeper flavor.
For the creamy element, I'm blending raw unsalted cashews with a mixture of 1 part unsweetened almond milk and 1 part full-fat canned coconut milk.
If you're using a conventional blender, you're gonna want to soak your cashews for the creamiest texture.
To add an even creamier element and a slight sweetness, I like to add just a half of a frozen sliced banana. It doesn't make the White Russian taste like banana, but it just kicks up the creaminess.
If you want to make your White Russian Milkshake a bit more exotic, add 1/2 teaspoon of ground cinnamon. This adds a nice holiday flavor, and makes it taste reminiscent of eggnog.
I've kept the alcohol content of this shake pretty tame. But, add more alcohol to taste. You may want to increase the vodka!
Use Your High-Speed Blender For The Creamiest Shake
You can make this White Russian Milkshake in any conventional blender. Just soak your cashews for the creamiest texture. But, you will get the most incredible creamy shake with a high-speed blender.
I use the KitchenAid® Pro Line® Series blender as it is the most powerful home blender. This machine is so powerful that it completely pulverizes the cashews for the most divine liquid velvet consistency. That is what you want for this White Russian Milkshake in order to truly replicate the experience of a traditional White Russian made with heavy cream.
I get asked about 100 times a week which blender I use and why. You can read more about why I use the KitchenAid® high-speed blender here.
A Blender To Match Your Stand Mixer
Many of you have written to me over the years complaining about how ugly many of the high-speed blenders are. I hear you! I'm also very particular about my aesthetics, and I like to match my appliances to the style of other things in my kitchen.
I know a lot of you keep your KitchenAid® stand mixer out as a how piece on your counter top in the kitchen. I keep my stand mixer out as well. It is so gorgeous! I have a white stand mixer and have a matching white KitchenAid® Pro Line® Series blender. I also have the white food processor, kettle, toaster, and coffee maker. I don't know about you, but I like everything to match. I get a lot of "ooohs and aaaahs when people come over to my house. It is a talking point for sure. And can get quite distracting as guests dive for their phones to order their matching blender! Hilarious.
Check out the KitchenAid® Pro Line® Series range. It's a pretty sexy holiday gift. It's the gift that keeps on giving with all of the incredible things that you can make.
I've said it many times before and I'll say it again: The blender is the greatest culinary gift we have been given since fire and spoons! There are just so many incredible things you can make, and the flavor combinations you can create are endless.
If you blend a lot like me and want to make recipes with nuts, seeds, grains, and fibrous ingredients like leafy greens, beets, carrots, apples, dates, sun-dried tomatoes, and superfoods, a high-speed blender will make your life so much easier.
But, I digress with my blender rant.
Back to the White Russian. Just do not miss this cocktail. It will make you weak at the knees.
*I am a paid ambassador for KitchenAid® blenders. But, my opinions are my own.
THE BLENDAHOLIC SHOW TRAILER

THE BLENDAHOLIC SHOW TRAILER: Hi, my name is Tess and I'm a Blendaholic. Every Monday I share super easy recipes you can make in your blender! I'm blending up smoothies, cocktails, soups, appetizers, snacks, main meals, and desserts. There isn't anything I won't try in a blender, and all of the recipes are mind-blowingly delicious. So, dust off your blender, and tune in to The Blendaholic every Monday at 7AM PST to find your perfect blend. Find more easy healthy recipes at The Blender Girlhttps://www.theblendergirl.com/

Posted by The Blendaholic on Monday, January 22, 2018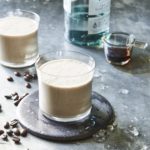 Vegan White Russian Milkshake
Ingredients
1/2

cup (120ml)

unsweetened almond milk

1/2

cup (120ml)

full-fat canned coconut milk

(shake, then pour)

3

ounces

gluten-free vodka,

plus more to taste

3

ounces

Kahlua,

plus more to taste

3

ounces

espresso,

plus more to taste

1

cup (140g)

raw unsalted cashews

soaked (see notes)

1

teaspoon

natural vanilla extract

1 1/2

cups (190g)

ice cubes

1/2

medium

frozen sliced banana
Instructions
Throw everything into the blender (except the ice cubes and frozen banana) and blast on high for 30 to 60 seconds until smooth and creamy. Add the ice cubes and frozen banana, and blast again for about 10 seconds until chilled. Tweak alcohol to taste.

Consume immediately for the best flavor.