Vegan Coleslaw
---
August 18, 2009
This raw vegan coleslaw is a delicious detox dish. Rich and creamy, you'd never know it was dairy-free.
This vegan coleslaw is really easy, creamy, and delicious.
In my last post, I admitted I wasn't a fan of mayonnaise, so it would stand to reason that I haven't been a card-carrying member of the coleslaw fan club. The ubiquitous colon-clogging coleslaws that would appear on the table at every BBQ or picnic in the 70's and 80's made me sick.
My opinion of coleslaw did not improve when I moved to California to attend UCLA and that dreaded old friend showed her face at every salad bar just as overdressed for a party I was never interested in attending anyway.
However, when I became macrobiotic I discovered the joys of pickled vegetables. That love affair opened the door to cultured vegetables which prepared my palate for tart flavors. I started making light slaws with oil and lemon dressings, and then I started stirring in the raw vegan mayo and became a coleslaw convert.
The secret to a sensational slaw in my opinion is: Don't drench the veggies or they will drown and die. There's my two cents about that. I always add half the dressing, and then add to taste, and pass any remaining dressing at the table for die-hard dressing drenchers.
I've deliberately left this recipe very basic in an attempt to replicate and celebrate my old dreaded acquaintance who I've finally invited to the party. But, adding in some shredded brussels sprouts, kale, and sprouted watermelon seeds is fabulous.
I'll post some more exotic slaws in the future. But this basic recipe will save your life if you need to whip up a quick and easy slaw for a mainstream audience who gets scared off by anything green!
Hello, my name is Tess, and I'm now a coleslaw crusader.
THE BLENDAHOLIC SHOW TRAILER

THE BLENDAHOLIC SHOW TRAILER: Hi, my name is Tess and I'm a Blendaholic. Every Monday I share super easy recipes you can make in your blender! I'm blending up smoothies, cocktails, soups, appetizers, snacks, main meals, and desserts. There isn't anything I won't try in a blender, and all of the recipes are mind-blowingly delicious. So, dust off your blender, and tune in to The Blendaholic every Monday at 7AM PST to find your perfect blend. Find more easy healthy recipes at The Blender Girlhttps://www.theblendergirl.com/

Posted by The Blendaholic on Monday, January 22, 2018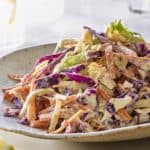 Vegan Coleslaw
This vegan coleslaw is a delicious detox dish. Rich and creamy, you'd never know it was dairy-free.
Instructions
Using the course shredding disc of your food processor, shred the cabbage and carrots. Or shred the cabbage and julienne the carrot with a sharp knife.

In a large bowl, toss the shredded veggies together, and fold through the mayo, lemon juice, salt, and pepper. Add lemon juice, salt, and pepper to taste.