Raw Vegan Mayo
from The Blender Girl cookbook
---
August 14, 2009
This raw, vegan, egg-free mayonnaise will rock your world, and is a fantastic base for salad dressings, dips, and spreads.
This raw vegan mayo from The Blender Girl cookbook is super easy to make, and is gluten-free, soy-free, and paleo-friendly.
I've never been a fan of traditional mayonnaise. To be honest, I was never really a condiment person. I found commercial mayo, ketchup, and BBQ sauce too sweet or too salty, and generally unpalatable. I was a plain Jane lost in the condiment kingdom. But, when I started making my own homemade condiments I became a condiment convert.
It's hard not to slather this raw vegan mayo on everything in sight. There are a ton of awesome egg-free mayo recipes out there, but I keep coming back to this one. I think it's the best one I've tried. I am partial to my own recipe, but since putting it in The Blender Girl cookbook and receiving thousands of giddy emails expressing egg-free-mayo-elation from happy cooks around the world I can safely say that this recipe rocks!
This vegan mayo is mild, creamy, and delicious. Depending on your ingredients, each batch of mayo will have a slightly different personality. Use this recipe as a blank canvas to create your own perfect blend. You could spinach and fresh herbs for a glorious green mayo, or add some spicy brown mustard, red pepper flakes, or cayenne for a bit of a kick.
But, sometimes plain and simple is just what the condiment doctor ordered. Good condiments add a touch of magic to dishes but don't take over.
This vegan mayo is a fantastic slathered on sandwiches and wraps, is wonderful on veggie burgers, works wonders with falafels and tacos, and makes a sensational base for dips, dressings, and spreads. I use this mayo as the base for my potato salad and broccoli salad.
Everybody loves this vegan mayo….even if they don't like mayo!
THE BEST VEGAN MAYO

This is THE BEST VEGAN MAYO. Just throw everything into your blender. This egg-free mayo has such an incredible flavor. Use it on burgers, sandwiches, wraps, or as a base for creamy dressings for potato salad and other salads. GET THE FULL PRINTED RECIPE:https://www.theblendergirl.com/recipe/raw-vegan-mayonnaise/

Posted by The Blendaholic on Sunday, October 21, 2018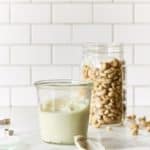 Raw Vegan Mayonnaise
This raw, vegan, egg-free mayonnaise will rock your world, and is a fantastic base for salad dressings, dips, and spreads.
Instructions
Drain the soaked cashews, and discard the soaking liquid.

Throw all of the ingredients into your blender, and blast on high for 30 to 60 seconds, until smooth and creamy.

Transfer the mixture to a sealed container. It will keep for 2 to 3 days.