Red Cabbage Slaw
This red cabbage slaw from The Decadent Detox 14-Day Cleanse is one of my favorite recipes. I make a batch of this almost every week, and it never gets old. I'd never been a fan of cabbage and had struggled to lovingly include it in my diet until I tasted this salad.
The first time I ate a version of this salad, it was made, and served to me by a very proud 8 year old when I was volunteering at my mum's school kitchen. That's how quick and easy it is!
The vibrant purple of the cabbage mixed with the lush green parsley and onions is a feast for the eyes, and the zesty lemon flavor is a winner.
Pick a whole cabbage that is firm and dense with a rich vibrant color. These cabbages have the highest nutrient profile. Don't buy cabbages that have been halved or quartered, as they have been exposed to oxidation and nutrient degradation.
Serve this red cabbage slaw with a clean piece of protein of your choice. I enjoy it with seared tofu or tempeh, a sliced avocado, or a handful of raw sliced almonds, hemp seeds, and sesame seeds.
Any way you serve it, this red cabbage slaw is a winner.
Join The Decadent Detox Cleanse
Join my 14-Day Live-Guided Cleanse to get healthy and stay healthy the decadent delicious way.
Please let me know what you think of this recipe in the comments!
Your feedback is really important to me, and it helps me decide which recipes to post next for you.
RED CABBAGE SLAW

This RED CABBAGE SLAW is one of the most popular recipes on my site. It is so easy and you can't believe something so simple can taste so good. This salad is loaded with nutrients and fiber, and is fantastic for detox. Or, pair this salad with any clean protein of your choice for a light refreshing lunch or dinner. GET THE FULL PRINTED RECIPE:https://www.theblendergirl.com/recipe/red-cabbage-slaw/

Posted by The Blendaholic on Sunday, July 15, 2018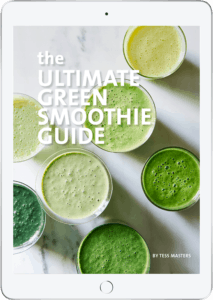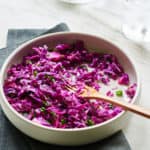 Red Cabbage Slaw
Everybody loves this red cabbage slaw. It's delicious!
Ingredients
1

medium head

red cabbage

2

bunches

flat-leaf parsley,

finely chopped

1

bunch

green onions (white and green parts)

finely chopped

1/2

cup (120ml)

extra-virgin olive oil

1/4

cup (60ml)

fresh lemon juice,

plus more to taste

1

teaspoon

Celtic sea salt,

plus more to taste

1/8

teaspoon 

freshly ground black pepper,

 plus more to taste
Instructions
Cut your cabbage into pieces, and place in batches in your food processor fitted with the s blade or coarse shredding disc, and pulse quickly just a few times, until roughly chopped. Don't process too much or your cabbage will be like rice. 

Toss the cabbage, parsley, and green onions with the olive oil, lemon juice, salt, and pepper. Tweak oil, lemon juice, salt, and pepper to taste.