Vegan Caesar Salad With Brussels Sprouts
---
June 5, 2023
This vegan caesar salad is so delicious and loaded with extra nutrients with the shaved brussels sprouts. Don't miss it.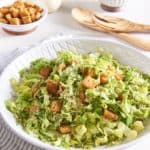 Vegan Brussels Sprouts Caesar Salad
This vegan caesar salad with shaved brussels sprouts is gluten-free, and is packed with nutrition and delicious flavors. The dressing is absolutely amazing.

Ingredients
pine-hemp parmesan: (makes 1 cup/115g)
dressing: (makes 1 3/4 cups/420ml)
salad:
10

cups (500g)

shredded romaine hearts

(about 5 hearts)

5

cups (40g)

shaved Brussels sprouts 
Instructions
Make the Croutons: Preheat the oven to 300 ̊F/150 ̊C, and line a large baking sheet with parchment paper. 

In a small bowl, whisk together the olive oil, garlic and onion powders, salt, and pepper until well combined. Place the bread cubes in a bowl and drizzle the oil mixture over the top, and toss well to coat all bread pieces evenly. You may need more olive oil depending on how thirsty your bread is. Transfer the coated bread cubes to your prepared baking sheet. Bake for about 10 minutes, toss the cubes, and bake for another 10 minutes until golden brown and crispy. Remove the croutons from the oven, and let them cool.

Make the Pine-Hemp Parmesan: Throw the ingredients into a food chopper or a food processor fitted with the s blade, and process for 5 to 10 seconds until the texture resembles shelf-stable parmesan cheese.

Make the Dressing: Quick-soak your cashews by placing them in a small bowl, and covering them with boiling hot water to soften them. Allow them to sit for 10 minutes, and then drain, and discard the soaking liquid. Throw the drained cashews into your blender with the rest of the dressing ingredients, and blast on high for 30 to 60 seconds, until smooth and creamy.

Assemble the Salad: In a large salad bowl, mix together the romaine lettuce and brussels sprouts, and add the dressing gradually to your preference.  Add half of the parmesan and half of the croutons.

Serve family style, or portion out the salad onto plates, and top with additional parmesan and croutons. Pass remaining dressing, croutons, and parmesan at the table.