This is the best vegan potato salad I've ever tasted, and I don't mind sayin!
Since I included this vegan potato salad in The Blender Girl cookbook, I've been overwhelmed with emails from happy potato salad lovers all over the world who agree.
This vegan potato salad has a creamy yet crunchy texture, with a zesty flavor that strikes the perfect balance between savory and sweet. The secret is in the sauce, with the raw mayo serving as the base for the dressing. Blending a few different kinds of mustards gives the dressing a fabulous complexity.
Pairing the cooked potatoes with a variety of raw veggies is great for digestion, too. The simple becomes the sublime, and this vegan potato salad is dressed to impress.
THE BEST POTATO SALAD

This POTATO SALAD from The Blender Girl book is crazy amazing. Don't miss this one. GET THE FULL PRINTED RECIPE: https://www.theblendergirl.com/recipe/vegan-potato-salad/

Posted by The Blendaholic on Friday, June 1, 2018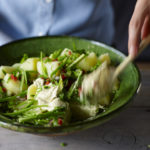 The Best Vegan Potato Salad
This creamy and crunchy vegan potato salad from The Blender Girl cookbook is epic. Not to be missed.
Total Time
1
hour
10
minutes
Ingredients
salad:
2 3/4

pounds (1.2kg)

potatoes,

peeled and cut into 1-inch (2.5cm) cubes

1

tablespoon

Celtic sea salt,

plus more to taste

1

bunch

green onions (white and green parts),

finely chopped

1

cup (140g)

diced red bell pepper

1

cup (132g)

diced celery

(about 4 large ribs)

1

cup (150g)

broccoli slaw

(or 1 cup (145g) peeled, seeded, and diced cucumber)

1/2

cup (75g)

diced red onion

1

bunch

flat-leaf parsley,

finely chopped
Instructions
To cook the potatoes, place them in a large pot and add cold water to cover. Add the salt and bring the water to a boil over high heat. Reduce the heat to medium and simmer the potatoes for about 8 minutes, just until fork-tender. (You don't want to overcook your potatoes, or you will end up with a mash rather than a chunky salad. Drain the potatoes, rinse them with cold water, and drain them again thoroughly. Allow them to cool completely.

To make the dressing, throw all of the dressing ingredients into your blender, and blast on high for 30 to 60 seconds until smooth and creamy.

To assemble the salad, transfer the cooled potatoes to a large bowl. Add the green onions, red onion, red bell pepper, celery, broccoli, and parsley. Pour on the dressing and fold in gently, keeping the potatoes as intact as possible. Season with salt and pepper to taste.

Serve chilled or at room temperature. The salad will keep in the fridge for up to 5 days.