Chopped Salad with Avocado Dressing
---
January 8, 2019
This easy chopped salad recipe with avocado dressing has an incredible tangy and zesty flavor, and is an awesome vegan side dish or light meal.
Chopped Salad with Avocado Dressing
If you're looking for a super easy and healthy chopped salad recipe, this one from The Fresh 20 is of the most delicious chopped salads I have tasted. And, added bonus, this recipe is vegan, gluten-free, paleo-friendly, keto-friendly, and suitable for those of you following The Whole 30 diet.
The thing that makes this vegan chopped salad so incredible (besides the awesome combo of nutrient-dense veggies) is the zesty and creamy avocado dressing. Melissa and her team have combined cauliflower rice, red cabbage, kale, carrots, red onion, cilantro, and sunflower seeds with and incredible dressing made up of avocado, apple cider vinegar, lemon juice, garlic, cilantro, and ginger. The original recipe contains raisins. I took them out, and replaced them with hemp seeds to complement the sunflower seeds. Boom! Winner!
As Mary Poppins would say, (well, the Julie Andrews version), this chopped salad is practically perfect in every way.
What Are The Ingredients In A Chopped Salad?
Traditionally, a chopped salad contains a variety of chopped fresh vegetables with some kind of meet, cheese, and tangy dressing. Most mainstream chopped salads contain some kind of crispy lettuce (usually romaine), some kind of cabbage or green, fresh tomatoes, basil (or other herb), onion, some kind of cheese, and some nuts, seeds, or beans. More often than not, a chopped salad is tossed with some kind of a vinaigrette or tangy mustard dressing, and served as a side dish or a light meal. The most common chopped salad available at restaurants in the U.S is an Italian chopped salad.
I don't know about you, but my palate cries out for something a little bit more interesting. And, I want something nutrient-dense and plant-based.
The Secret To The Best Chopped Salad?
For me, the best chopped salad recipes get just the right balance of crispy vegetables with a variety of textures and flavors, they use nutrient-dense ingredients to maximize the health benefits, and they chop the ingredients into complementary small shapes and sizes so that you get an even blend of flavors and textures with every left of the fork. The other must-have element on any self-respecting chopped salad is a kick-ass tangy dressing that coats the vegetables in juuuust the right quantity. Not enough dressing and you've got a mound of sad dry veggies crying out for flavor, and too much, and you've got a drowned rainbow rat of a salad.
Some added elements that can give any vegan chopped salad the wow factor is to add some kind of crunchy nuts or seeds, some kind of a tangy ingredient for a pop such as sun-dried tomatoes or olives, some kind of fresh herb, and a spicy back-end kick.
This vegan chopped salad is really simple, and you can add any wow factors you like. Leave a comment below and let me know what tweaks you made.
Craving More Chopped Salad Recipes?
Chopped Salad with Lemon Tarragon Dressing
Thai Chopped Salad
Kale and Cabbage Slaw
Do You Need Help with Weekly Dinner Planning?
Get your free weekly meal plan from The Fresh 20.
Please let me know what you think of this recipe in the comments!
Your feedback is really important to me, and it helps me decide which recipes to post next for you.
THE BLENDAHOLIC SHOW TRAILER

THE BLENDAHOLIC SHOW TRAILER: Hi, my name is Tess and I'm a Blendaholic. Every Monday I share super easy recipes you can make in your blender! I'm blending up smoothies, cocktails, soups, appetizers, snacks, main meals, and desserts. There isn't anything I won't try in a blender, and all of the recipes are mind-blowingly delicious. So, dust off your blender, and tune in to The Blendaholic every Monday at 7AM PST to find your perfect blend. Find more easy healthy recipes at The Blender Girlhttps://www.theblendergirl.com/

Posted by The Blendaholic on Monday, January 22, 2018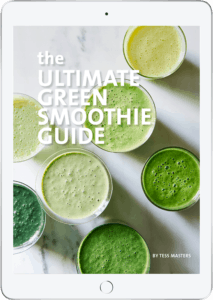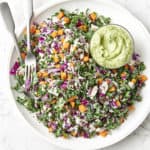 Chopped Salad with Avocado Dressing
This easy chopped salad recipe with avocado dressing has an incredible tangy and zesty flavor, and is an awesome vegan side dish or light meal.
Ingredients
salad:
1

head

cauliflower,

cut into florets

1/2

head

red cabbage,

cut into 8 pieces

1/2

small red onion,

cut into 4 pieces

2

medium carrots,

peeled

1

bunch

kale,

stems removed, and shredded

1

bunch

cilantro

(or flat-leaf parsley, finely chopped

1/4

cup

raw sunflower seeds

1/4

cup

raw shelled hemp seeds
Instructions
To make the salad, rice the cauliflower by placing the florets in a food processor fitted with the s-blade and pulsing until the consistency of couscous. Then place the red cabbage and onion in the food processor, and pulse until finely chopped. Switch the s-blade for the dicing disc (if you have one) and dice the carrots. Alternatively, dice the carrots by hand with a knife.

In a large bowl, toss processed cauliflower, cabbage, onion, and carrot with the chopped kale and cilantro, sunflower seeds, and raisins if using. Chill in the fridge while you're making the dressing.

To make the dressing, whisk all of the salad ingredients together in a bowl.

To serve, toss the dressing through the salad, and add lemon juice, salt, and pepper to taste. Enjoy immediately.
Recipe Notes
Note: if taking this salad to a party, store the salad and dressing separately, and if possible, open the avocados and add to the dressing right before serving to minimize oxidation.