Vegan Thai Salad
---
June 28, 2015
This Thai salad from Anna Jones's A Modern Way To Eat is vegan and gluten-free, really easy, and has an incredible fresh flavor.
THE BLENDAHOLIC SHOW TRAILER

THE BLENDAHOLIC SHOW TRAILER: Hi, my name is Tess and I'm a Blendaholic. Every Monday I share super easy recipes you can make in your blender! I'm blending up smoothies, cocktails, soups, appetizers, snacks, main meals, and desserts. There isn't anything I won't try in a blender, and all of the recipes are mind-blowingly delicious. So, dust off your blender, and tune in to The Blendaholic every Monday at 7AM PST to find your perfect blend. Find more easy healthy recipes at The Blender Girlhttps://www.theblendergirl.com/

Posted by The Blendaholic on Monday, January 22, 2018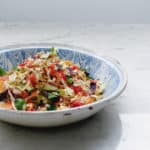 Vegan Thai Salad
This Thai salad from Anna Jones's A Modern Way To Eat is vegan and gluten-free, really easy, and has an incredible fresh flavor.

Ingredients
salad:
1

zucchini

3 

medium

carrots,

 peeled

1/2

head

napa cabbage

(or white cabbage)

1

red bell pepper,

seeded

2

scallions

1 

pink grapefruit

1

lime

1

small bunch

fresh basil

1

small bunch

fresh cilantro

1

cup

bean sprouts
dressing:
3

oz (100g)

raw unsalted cashews,

soaked overnight in water if you have time

1 

(3/4-inch/2 cm) piece

fresh ginger root, 

peeled and roughly chopped

1/2

clove

garlic,

 peeled, green center removed, roughly chopped

1

red chile,

 seeded and finely chopped

Juice

of 2 limes

2

tablespoons

wheat-free tamari
to serve:
1/4

cup

crushed raw cashews
Instructions
Use a vegetable peeler to peel the zucchini and carrots into ribbons and place them in a big bowl—it's okay to leave a little bit of the middle behind for the sake of your fingers. Shred the cabbage finely, slice the red pepper and scallions as finely as you can, and add to the bowl.

Now use a knife to peel the grapefruit and lime. Then with the knife, roughly cut out all the segments from both, leaving the pith and membrane behind. Put the segments into a bowl, then mash them up so you are left with little juicy jewels of lime and grapefruit. Add these to the big bowl too.

Roughly chop the basil and cilantro, then add all the basil, half the cilantro,and all the bean sprouts to the bowl. This will all keep well in the fridge until you are ready to eat. 

When ready to serve, make your dressing by putting all the ingredients into a blender with 2 ⁄ 3 cup/150 ml of water and blending until you have a dressing just thick enough to coat and hold on to the vegetables. Thin with a little more water if you need to. If you don't have a blender, mash the dates in a bowl until you have a paste, then finely chop the nuts, ginger, garlic, and chile and stir in the lime juice and soy sauce. Pour the dressing over the salad, mix well,and top with the crushed cashews and the rest of the cilantro.
Recipe Notes
Recipe from A Modern Way to Eat by Anna Jones, copyright © 2015. Published by Ten Speed Press, an imprint of Random House LLC.
Photo by Brian Ferry.