Pineapple Orange Ginger Beet Smoothie
from The Decadent Detox
---
January 1, 2019
This amazing pineapple orange ginger beet smoothie from The Decadent Detox is so delicious it will make you excited to use beets in smoothies!
Pineapple Orange Ginger Beet Smoothie
Beet skeptics! This brilliant beet smoothie is for you! I get so00o many emails from people asking for a beet smoothie that doesn't taste like dirt. I get messages from people saying they hate beets and could never drink smoothies made with beets. I get instagram messages from people asking me for tips on using beets in smoothies so that they taste delicious, and I have received a ton of messages asking specifically for a beet pineapple ginger smoothie or a beet orange smoothie or a beet orange juice smoothie. (Those tend to be the most popular flavor combinations!)
So, here is one of my favorite beet smoothie recipes with pineapple, orange, and ginger. This smoothie recipe is from The Decadent Detox 14-Day Live-Guided Cleanse, and I know this smoothie rocks because thousands of people have participated in the cleanse and this is one of the most popular smoothies! Even people who hate beets! Yep! I challenge you not to love this sweet beet smoothie. It has a stunning vibrant pink color and delicious flavor that will make you batty for beets.
How To Use Beets In Smoothies
So, here's the trick to using beets in smoothies and getting your beet smoothie to taste amazing.
Firstly, use raw beets. I get asked this question a lot. Do you use raw beets or cooked beets in smoothies? You can use steamed beets in smoothies, but not roasted or fried, the flavor is too assertive. However, I prefer to use raw beet in smoothies to get the maximum nutritional benefit.
Always scrub your beetroot thoroughly as these root veggies carry a lot of dirt and grit. I scrub mine with a veggie brush. Next, peel your beet. I don't peel beets when I roast them. But, I do peel them when I'm using them in smoothies as the skin can be tough to pulverize in some blenders, leaving you with a smoothie that doesn't have a great texture. Either peel your beets with a sharp vegetable peeler or a sharp knife. Beets can stain your hands and some counter tops. So, using some reusable gloves is a great idea.
If you're using a high-speed blender, you can just rough chop the beet. For the smoothest texture with conventional blenders, grate your beets.
The biggest advantage to adding beets to smoothies is the gorgeous pink/purple color you will get. Just stunning. In fact, one of my best smoothie tips for rescuing a brown sludgy-looking smoothie from the depths of undrinkable despair is to add a few cubes of beet root!
The downside of using beets in smoothies is the potentially mealy texture with conventional blenders (grate as suggested above), and the potentially earthy pungent flavor that turns people off. I'm going to go out on a limb and say that I think a lot of the fear with beets is emotional and connected to expectation. And, with good reason. SO many beet smoothies out there are really gross.
How To Get Fabulous Flavor with a Beet Smoothie:
Start small (1/2 cup cubed beets) and add to taste. Usually 1 cup is as much as you will ever want to add.
Add juices like orange juice, unfiltered apple juice, pineapple juice, cranberry juice, or pomegranate juice.
Pair the beet with apples, pineapple, mango, oranges, banana, and berries.
Lift the earthiness with some lemon or lime juice and zest.
Accent the flavor with fresh herbs like mint, basil, or rosemary.
Add back-end kick with cayenne pepper, red pepper flakes, cinnamon, and fresh grated ginger.
Add some kind of creamy element like avocado, yogurt, or nuts to offset the mealy texture.
Bind yourself to the brilliant beet in order to reap the health rewards.
The Health Benefits of Beets in Smoothies
Beetroot and beet greens are incredible additions to healthy smoothies. Beets are rich in phytonutrients and iron, copper, magnesium, and potassium, vitamin C, fiber, and dietary nitrates, making them one of the most brilliant blood building foods you can add to smoothies. Beets are also loaded with folate to aid cellular regeneration, and contain anti-inflammatory betaine to help fights infections and combat cancer cells. Beets also contain the magical antioxidant glutathione for glowing skin, hair, and nails.
Beets are one of the ultimate detox divas, helping to flush toxins from the liver and colon, and stimulating the lymphatic system. But, be warned. Beets are powerful cleansing agents and will clean…..you…out. Start with 1/2 a medium beet to begin with and see how you react. Also, don't be alarmed if your urine and stools have a pink/purple tinge. That is normal. But, I have had many people write to me terrified when they look into the toilet bowl. They think there is blood in their urine. Don't worry. This is a sign the beets are working their magic!
The Best Beet Smoothie Recipe
I think the best healthy beet smoothie recipes don't utilize juice, and instead, use whole fruits, veggies, fresh herbs, and spices to deliver maximum nutrient value, gorgeous color, and incredible flavor. And that this beet smoothie ticks all of those boxes. Instead of a beet smoothie made with orange juice, I've used 2 whole oranges. So, you get the sweetness of the orange juice coupled with the fiber and nutrients of the whole oranges, and the benefits of some of the pith. The two cups of frozen pineapple deliver a sweetness and frostiness, the avocado adds a creamy element to offset the texture of the beets and also deliver fantastic healthy fats, and the ginger and cayenne pepper give you an brilliant back-end kick as well as medicinal mojo.
Don't miss making this smoothie. It will wow you….even if you hate beets.
More Beet Smoothie Recipes You Will Love
Berry Beet Smoothie
Pomegranate Beet Smoothie
Protein Beet Smoothie
Get 100 Smoothie Recipes
My Top 100 Smoothie Recipes are in The Blender Girl Smoothies book.
Join The Decadent Detox Cleanse
Join my 14-Day Live-Guided Cleanse to get healthy and stay healthy the decadent delicious way.
Please let me know what you think of this recipe in the comments!

Your feedback is really important to me, and it helps me decide which recipes to post next for you.
THE BLENDAHOLIC SHOW TRAILER

THE BLENDAHOLIC SHOW TRAILER: Hi, my name is Tess and I'm a Blendaholic. Every Monday I share super easy recipes you can make in your blender! I'm blending up smoothies, cocktails, soups, appetizers, snacks, main meals, and desserts. There isn't anything I won't try in a blender, and all of the recipes are mind-blowingly delicious. So, dust off your blender, and tune in to The Blendaholic every Monday at 7AM PST to find your perfect blend. Find more easy healthy recipes at The Blender Girlhttps://www.theblendergirl.com/

Posted by The Blendaholic on Monday, January 22, 2018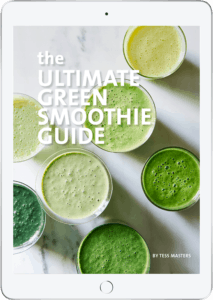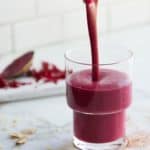 Pineapple Orange Ginger Beet Smoothie
This amazing pineapple orange ginger beet smoothie from The Decadent Detox is so delicious it will make you excited to use beets in smoothies!
Ingredients
1

cup (240ml)

filtered water,

plus more if needed

2

medium oranges,

peeled and segmented

1

medium raw red beet,

peeled and finely chopped (grated for conventional blenders)

1/2

small avocado,

peeled and pitted

1 1/2

teaspoons

minced fresh ginger,

plus more to taste

2

cups (320g)

frozen pineapple

1/2

teaspoon

probiotic powder

(optional)

Pinch

of cayenne pepper

(optional)
Instructions
Throw all of the ingredients into your blender except the frozen pineapple, and blast on high for 30 to 60 seconds until well combined.
Add the pineapple, and blast for another 30 seconds until smooth and creamy. Tweak ginger to taste.