Grain-Free Low Carb Cereal
from the 7-Day Raw Cleanse
---
January 15, 2019
Make this delicious low carb cereal from the 7-Day Raw Cleanse in 5 minutes. This recipe is raw, vegan, grain-free, and full of protein.
Grain-Free Low Carb Cereal
If you're looking for an epic low-carb cereal that is actually healthy, then this quick, easy, 5 minute recipe is for you!
Most cereals are loaded with grains, oats, roasted nuts and seeds, and a lot of dried fruit or sugar. If you're watching your carbohydrate intake, are avoiding grains, or just want a healthier breakfast cereal alternative, this nut and seed cereal is a winner!
I created this simple low carb cereal for the 7-Day Raw Cleanse I created for DailyOM, and you can throw this together in less than 5 minutes. This cereal is super delicious, and really filling and satisfying. This awesome little breakfast recipe is raw, vegan, grain-free, gluten-free, and dairy-free, and contains alkaline-forming nuts and seeds to power your day. I've been making a version of this cereal for years, and it never gets old.
This combo of nuts and seeds is my favorite to make a low carb cereal. But, you could take this basic principle and throw together whatever nuts and seeds you have on hand for an awesome breakfast. In fact, it's a great idea to mix up the combo for nutrient diversity, but also for taste-bud satisfaction.
The Health Benefits Of This Cereal
With almonds, walnuts, sunflower seeds, pumpkin seeds, and hemp seeds, this brilliant breakfast bowl is packed with highly digestible plant-based protein for muscle tone, circulation, and tissue repair. Full of heart-healthy fats; this low carb cereal is also loaded with alkaline buffer minerals like calcium, potassium, magnesium, and iron to combat acids and regulate blood sugar.
Amped up with antioxidant vitamins C and E, this grain-free breakfast cereal also nourishes the skin for immunity; detoxes the liver; and preserve cell integrity. An arsenal of omega fatty acids helps this healthy cereal combat inflammation, fire up metabolism, and boost brain function and mood. B vitamins and fiber aid carbohydrate metabolism for lasting energy; and fiber dials up digestive cleansing.
Add Low Sugar Fruits For Natural Sweetness
I've added a chopped green apple to this recipe to add some color, natural sweetness, and more crunch. Green apples typically have the lowest sugar content.
To reduce the carbs, add less apple, use a handful of berries, or omit the fruit.
To make this more alkaline-forming and suitable for those people following the Body Ecology diet, omit the fruit, and sprinkle some monk fruit to sweeten the mix without adding sugar to your breakfast.
Use Unsweetened Plant-Based Milks
I've served this nut-based cereal with unsweetened almond milk in this post. But, you could, of course serve this cereal with hemp milk, coconut milk, cashew milk, walnut milk, oat milk, rice milk, or any other milk you fancy. For the wow factor, try adding hazelnut milk or chocolate-flavored almond milk. It is just delicious.
This cereal is also awesome topped with some unsweetened coconut yogurt or almond yogurt, and some coconut flakes.
However you make it, this raw vegan cereal is a breakfast of champions.
Searching for more grain-free breakfast recipes?
Grain-Free Granola
Cashew Cream Breakfast Parfaits
Lavender Chia Pudding
Do you need a reboot?
Join the 7-Day Raw Cleanse.
Please let me know what you think of this recipe in the comments!
Your feedback is really important to me, and it helps me decide which recipes to post next for you.
LOW CARB CEREAL

This GRAIN-FREE LOW CARB CEREAL with nuts and seeds is so easy to throw together. This breakfast cereal is great with almond, hemp, cashew, coconut, walnut, or hazelnut milk. Try it with chocolate-flavored milk, Oh my... You can mix up the combo of nuts and seeds for nutrient diversity and taste bud satisfaction. And you could make up batches ahead of time and scoop out some and then just add the fresh fruit right before serving. This cereal also makes a fantastic quick healthy snack. GET THE FULL PRINTED RECIPE:https://www.theblendergirl.com/recipe/grain-free-low-carb-cereal/

Posted by The Blendaholic on Saturday, March 16, 2019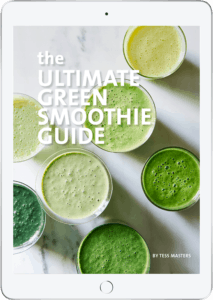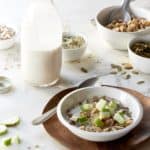 Grain-Free Low Carb Cereal
Make this delicious low carb cereal from the 7-Day Raw Cleanse in 5 minutes. This recipe is raw, vegan, grain-free, and gluten-free, and full of protein.
Instructions
In a bowl, combine the almonds, walnuts, sunflower seeds, pumpkin seeds, hemp seeds, apple, cinnamon, and salt. Pour the almond milk into the bowl, and add cinnamon to taste.