This sesame ginger dressing is a staple in our house. It's super easy to make and is gluten-free and vegan.
I can never go past a fresh Asian salad on a hot summer day. It always reminds me of many a steaming hot day seeking refuge at a shady table outside at a hawker stall in Singapore, Malaysia, or Thailand during my teenage years.
Those of you freezing your rear ends off in the Northern hemisphere probably can't even contemplate the hot sun on your body right now. But for those of us basking down under, we're celebrate all things summer today.
As I continue my crusade against commercial salad dressings, it occurred to me that no dressing repertoire would be complete without a quick, easy Asian dressing.
So, here it is. This sesame ginger dressing pairs beautifully with any greens,  bean shoots, julienned carrots, cucumber, green onions, and radishes. Drizzle this dressing over some fresh julienned veggies, and you've got a winner every time.
THE BLENDAHOLIC SHOW TRAILER

THE BLENDAHOLIC SHOW TRAILER: Hi, my name is Tess and I'm a Blendaholic. Every Monday I share super easy recipes you can make in your blender! I'm blending up smoothies, cocktails, soups, appetizers, snacks, main meals, and desserts. There isn't anything I won't try in a blender, and all of the recipes are mind-blowingly delicious. So, dust off your blender, and tune in to The Blendaholic every Monday at 7AM PST to find your perfect blend. Find more easy healthy recipes at The Blender Girlhttps://www.theblendergirl.com/

Posted by The Blendaholic on Monday, January 22, 2018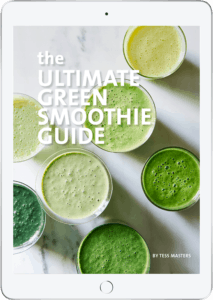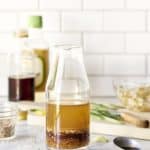 Asian Sesame Ginger Dressing
This easy vegan asian salad dressing takes minutes to make in your blender.
Ingredients
1/2

cup

safflower oil

1/4

cup

rice vinegar

2

tablespoons

toasted sesame oil

1 1/2

tablespoons

wheat-free tamari

1

tablespoon

pure maple syrup

1

tablespoon

toasted sesame seeds

2

teaspoons

minced ginger

1

teaspoon

minced garlic

(1 clove)
Instructions
Throw all of the ingredients into a jar, secure the lid, and shake vigorously until emulsified and combined.

Chill in the fridge to allow the flavors to mesh. The dressing will keep for about 5 days.