THE BLENDAHOLIC SHOW TRAILER

THE BLENDAHOLIC SHOW TRAILER: Hi, my name is Tess and I'm a Blendaholic. Every Monday I share super easy recipes you can make in your blender! I'm blending up smoothies, cocktails, soups, appetizers, snacks, main meals, and desserts. There isn't anything I won't try in a blender, and all of the recipes are mind-blowingly delicious. So, dust off your blender, and tune in to The Blendaholic every Monday at 7AM PST to find your perfect blend. Find more easy healthy recipes at The Blender Girlhttps://www.theblendergirl.com/

Posted by The Blendaholic on Monday, January 22, 2018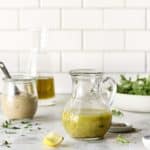 Fabulous French Dressing
This homemade french dressing is so quick and easy to make, you'll never buy the commercial variety again.
Instructions
Throw all of the ingredients into a jar, secure the lid, and shake vigorously until emulsified and combined. 

Chill in the fridge to allow the flavors to mesh. The dressing will keep for about 5 days.