This homemade French dressing is a staple in our house.
Today, I continue my crusade against commercial salad dressings. Today, my war is with the French! Well, not exactly. It's with the French inspired dressings that grace the shelves of most fridges, and which I'm sure make any self-respecting French chef cringe!
By the time you drive up to the store and buy a bottle of shelf-stable dressing, you could have blended up this recipe, chopped the veggies for a salad, eaten it, and have moved onto dessert. Well, maybe I'm overstating my claim just a tad, but you get the drift.
Fresh is always best, and my motto with food is, "The longer the shelf life, the shorter mine." Use high quality fresh extra-virgin olive oil, and you'll taste the difference.
OK, I'll get off my soap box, and eat my salad.
THE BLENDAHOLIC SHOW TRAILER

THE BLENDAHOLIC SHOW TRAILER: Hi, my name is Tess and I'm a Blendaholic. Every Monday I share super easy recipes you can make in your blender! I'm blending up smoothies, cocktails, soups, appetizers, snacks, main meals, and desserts. There isn't anything I won't try in a blender, and all of the recipes are mind-blowingly delicious. So, dust off your blender, and tune in to The Blendaholic every Monday at 7AM PST to find your perfect blend. Find more easy healthy recipes at The Blender Girlhttps://www.theblendergirl.com/

Posted by The Blendaholic on Monday, January 22, 2018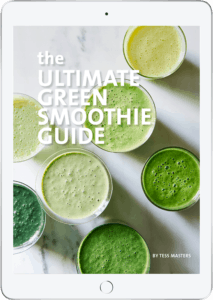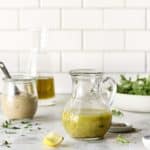 Fabulous French Dressing
This homemade french dressing is so quick and easy to make, you'll never buy the commercial variety again.
Ingredients
1/2

cup (120ml)

extra-virgin olive oil

2

tablespoons 

apple cider vinegar

2

tablespoons

finely chopped flat-leaf parsley

1

tablespoon

fresh lemon juice

1

teaspoon

Dijon mustard

1

teaspoon

minced fresh garlic

(1 clove)

1/2

teaspoon

pure maple syrup

1/4

teaspoon

Celtic sea salt

1/8

teaspoon

freshly ground black pepper
Instructions
Throw all of the ingredients into a jar, secure the lid, and shake vigorously until emulsified and combined. 

Chill in the fridge to allow the flavors to mesh. The dressing will keep for about 5 days.